English Teacher Ms. Brissa Ochoa Returns to Westwood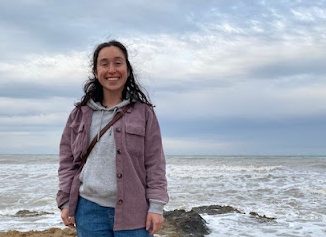 When you step into Ms. Brissa Ochoa's classroom, the first things you notice are the amount of Harry Potter decorations, creative student projects, and pictures of her family and friends on her walls. And, of course, her warm smile. These things are definite tells of her laid-back, easy-going personality. Returning from her time in Spain, Ms. Ochoa is back as a sophomore English teacher.
After graduating from the University of Texas, Mrs. Ochoa has gathered eight years of teaching experience, first at Westwood and then in Spain. After her four years in Spain, it has certainly taken some adjusting to fully re-acclimate to the U.S, especially after our slow creep out of a global pandemic.
"The pandemic was handled differently in Spain than [it was] here," Ms. Ochoa said. "It was scary, but cool to see the empty streets. It was like 'The Walking Dead', with people reporting on the empty streets of Madrid. I feel like I got the most extreme version of the pandemic."
Both educators and students faced difficulties in Spain during this time. In the fall of 2020, in-person learning resumed, but now with the requirement of masks looming over the students and the teaching staff.
"Wearing masks for two years was difficult. Kids completed more work, [but] it was more serious. It was really stressful and tough. One day I could be teaching in person and the next I could be expected to be teaching from home," Ms. Ochoa said.
Coming back to Westwood has been quite the nostalgic experience for Ms. Ochoa.
"It's interesting to see all the changes to the building. It feels foreign but familiar. That's what I keep telling everyone," Ms. Ochoa said. "I feel like I know a lot of people, but there's a lot of new people I don't."
As an English teacher, Ms. Ochoa enjoys and is drawn to English.
"I enjoy the conversations you [can] have in English classes, the freedom you have, but also the structure [you] have when reading literature," Ms. Ochoa said. "You can have some great conversations about the lessons you learn in books."
Outside of school, Ms. Ochoa loves reading, but lately has been sidetracked by work and her Master's degree program. In her spare time, she also loves being outdoors, watching soccer, hanging out with her friends, lounging, working out with her husband in the early morning, and playing board games.
Leave a Comment