Lieutenant Colonel Jason Colborn to Lead JROTC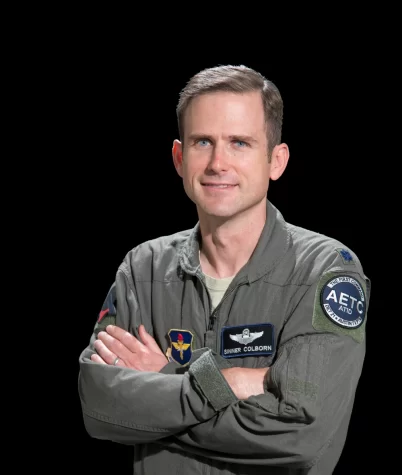 Lieutenant Colonel Jason Colborn started as the new Air Force Junior Reserve Officer Training Corps (JROTC) Instructor on Monday, Aug. 22. Lt Col Colborn, an Augusta, Georgia native, retired from the U.S. Air Force in 2020 after finishing his tour as a Detachment Commander for Pilot Training Next.
"I wanted to start teaching JROTC because I really love mentoring," Lt Col Colborn said. "I wanted to be a part of an empowered, trusted, and innovative team who values each other and who are collectively focused on leaving a positive legacy for our students – both for [the students] benefit, as well as for the benefit of society."
After serving in a variety of roles throughout his time in the Air Force, Lt Col Colborn was ready to take on yet another by continuing to pursue his love of mentoring and teaching in the civilian world. 
"You wear a lot of different hats as an Officer," Lt Col Colborn said. "I was a Detachment Commander and I was an instructor pilot in the F-15E, Eurofighter Typhoon, and the T-38 Talon."
Prior to retiring and teaching JROTC, Lt Col Colborn had done multiple overseas tours with the Air Force, including operational assignments in the United Kingdom and the Republic of Korea, and flying instructor assignments in North Carolina and the United Kingdom.
"I've done three different stints in the United Kingdom," Lt Col Colborn said. "I've done an Active Duty stint over at Seymour Johnson Air Force Base in Goldsboro, North Carolina. I did a staff tour at Osan Air Base in the Republic of Korea, and then it was the training pipeline."
The training pipeline that Lt Col Colborn is referring to is the training he has received and given to U.S. servicemembers around the globe. Lt Col Colborn did training tours in North Carolina, Oklahoma, and multiple tours in the United Kingdom, before attending Air Command & Staff College at Maxwell Air Force Base in Alabama. Before starting his 20 years of service, he did four years of undergraduate studies at the U.S. Air Force Academy in Colorado Springs, Colorado.
"[Air Command & Staff College] is a one-year masters level program," Lt Col Colborn said. "It's not only giving you the masters level education to make you smarter on the U.S.' way of going to war but, arguably even more important, it's a leadership course where you are being trained for the future leadership roles you may have."
Most recently, Lt Col Colborn commanded Detachment 21 of the Air Education and Training Command's Pilot Training Next program. Detachment 21 was run out of the Armed Forces Reserve Center at Austin Bergstrom International Airport's South Terminal. According to Air Education and Training Command Public Affairs, Pilot Training Next is an "initiative to 'reimagine' how learning is delivered to Airmen."
"It's a great opportunity to work with folks that are just happy to be here, they're yearning to learn, and I love being there to help out," Lt Col Colborn said.