NAHS Announces Future Plans at First Meeting of Year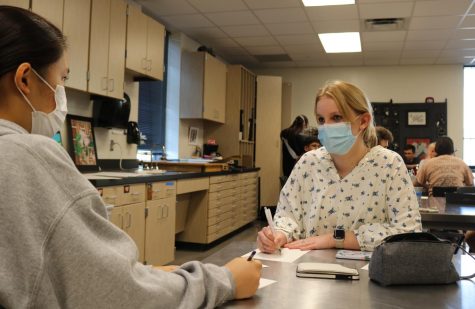 On Monday, Sept. 12, The Westwood National Art Honor Society (NAHS) held their first meeting of the year. NAHS is a student-led art club that provides art opportunities to students, such as participating in painting murals around the school.
"I joined NAHS because I have always been passionate about art and creativity," NAHS President Arunima Das '23 said. "I was inspired by the goal of combining art and community service and excited by the idea of being part of a community of fellow young artists. NAHS gave me opportunities to use my creativity to serve our community and allowed me to connect with other students who are just as passionate about art as I am. I have been a part of the officer team since my sophomore year, and have loved getting to know the members and seeing the community build over time."
The first meeting introduced the club to new and returning members. Officers introduced themselves with a slideshow with plans for this year and opportunities for competitions and exposure. The club then broke into an activity called blind contour drawing, where two people pair up and draw each other without looking at the paper or lifting up the pencil.
"I think it's fair to say that NAHS made me who I am today and being President is a way for me to give back to this wonderful community that has brought me so much joy," said Das. "I hope I can use this position to foster a creative, inspiring, and supportive community for all students."
This school year, NAHS hopes to be more involved and well known in the Westwood and Austin community with art shows, artist trading cards, and murals.