Panic! At the Disco Launches Tour in Austin
Slick production can't hide vocal struggles
In Austin's shiny new Moody Center, thousands of fans gathered to witness the inaugural show of Panic! At the Disco's Viva Las Vengeance tour: moms and daughters, dads and dudes, many rainbow colors of post-punk hair, and the usual Austin gamut of fashion from goth to cowboy to cargo shorts. Many sported fan-club exclusive shirts or tees from past tours. The phases and faces of Brendon Urie and the many iterations of P!ATD were all represented.
This was my third time seeing Panic! live, and even before the show began I had my doubts. The band's new album, Viva Las Vengence, is terrible. Single after disappointing single released over the past few weeks leading up to the tour filled me with dread. I had bought overpriced tickets as soon as they went on sale…before any of the new songs were out. My heart sank a little further with each release. I even put my tickets up for sale; unsurprisingly, no one bought them. My guess is that a lot of other people were also trying to unload their tickets after getting a whiff of the new album.
I listen to P!ATD nearly every day. Death of a Bachelor (2016) is a masterful album that showcases Urie's fantastic vocal range. Compared to earlier works, his voice matured and gained a richness that makes every song on that album a pleasure to hear. Pray for the Wicked (2018) continued in that vein, though with less impressive songwriting. I was late to the P!ATD party, but as soon as I got there I listened to all the back catalog, and the progression of the frontman's vocal abilities is clear. He sounds better and better on each successive album.
Until now.
Something terrible has happened to Brendan Urie's voice. His silky smooth tones are gone, reduced to a screech that doesn't quite hit the notes, even on a fully produced studio album.  For the past decade, fans and critics have extolled Urie's impressive range of  more than four octaves from baritone to soprano. Fans loved it when Urie would hit a ridiculously high note in live shows, and he began doing it more and more in recordings as well. Too much, in fact. Is it possible that he's just ruined his voice by over-straining it? It seems too simple, but I can't help but wonder if he just heard so many people swoon over his ability to hit high notes that he decided to do entire songs of high notes. If that's the case, someone should tell him the trick is much less impressive when you overuse it — and bad for your voice, as well.
Last night, Urie struggled to hit the high notes and several times went off-pitch even in the middle of his range. Some grace should be given here, as this was in fact the very first show of the tour — the first live show in years, except for an August appearance on The Today Show — and some rough spots are to be expected. However, a grueling run of shows seems likely to worsen the singer's voice in a vicious cycle of overuse and strain. 
As the tour begins, it's painfully evident that the last three years have not been kind to Brendon Urie. His stage presence is not what it used to be. Gone are the signature backflips and manic dancing, replaced by more conventional bobbing and gestures. This makes me sad, but time marches on, and I'm not opposed to the idea of an older, wiser Brendon. The trick is to wear that age gracefully, like Tony Bennett or Frank Sinatra–not to push yourself to a point where you can't handle the physical strain of a tour.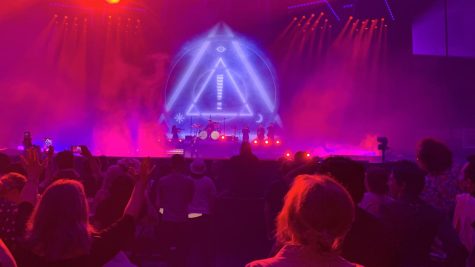 Some cautions do appear to be in place to protect Urie's vocal cords. The show was marked by unusually long transitions during which the string section and lighting crew provided lovely interludes while Urie presumably drank some water and rested his voice for a minute between numbers. By contrast, on the past two tours the band plunged directly from one hit to the next, a vocal tour de force with virtually no rest for the energetic frontman. It's painful to watch him struggle with something he once made look so effortless. 
As for the songwriting on Viva Las Vengeance, it feels as exhausted as Urie's voice. Several of the new songs feature abrupt changes and theatrics that nod to the great Freddie Mercury, but the lyrics lack depth and interest. The line "Oh sh*t, you're kissing my neck" from Middle of a Breakup isn't exactly poetry. Like that one, several other songs also lack metaphor and imagery. They feel like rough ideas that should have been revised and polished a few more times. Musically, the hook of the chorus in Do It To Death sounds like a TV jingle. Honestly, the whole thing just makes me sad. How could the same person who wrote the soaring and intriguing Death of a Bachelor, the quirky and irreverent Don't Threaten Me With a Good Time, and the oddly endearing Nine in the Afternoon…how could that person also be responsible for such banality as this?
It was a glorious thrill (and, let's be honest, a relief) when the show opened not with anything new, but with a hit from the previous album, Say Amen (Saturday Night). I held my breath as that was followed by more old favorites: Hey Look Ma, I Made It, Don't Threaten Me With a Good Time, This is Gospel, and Miss Jackson. Maybe this will be OK, I thought. Maybe he's realized what we really want to hear is the old songs, and maybe they won't play much of the new stuff.
No such luck. After that enthusiastically-received opening group of songs, Urie addressed the crowd. 
"We're going to play a bunch of songs that we've never performed live before," he said. "Hope you don't mind!"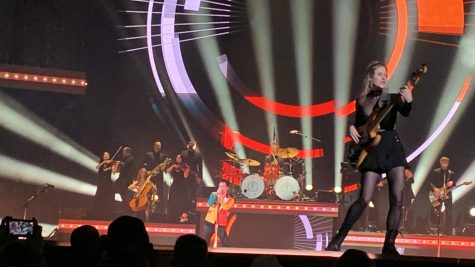 On the screen behind the band, a huge castle appeared, and the crowd was shocked into near silence as the band launched into Into the Unknown, the credits song from Frozen II. Although not written by Urie, that song,  with its awkward timing and insane number of high notes, embodies a lot of what has gone wrong with P!ATD in recent years. It's just not a good song, and the performance of it was not good either. Urie began to visibly strain. It was clear to see on his face that he was no longer enjoying himself. He was just in pain.
Next, a brief return to better days, as the band played Emperor's New Clothes, a salty 2016 hit about reclaiming control that fans love or hate for its apparent references to the departure of past band members.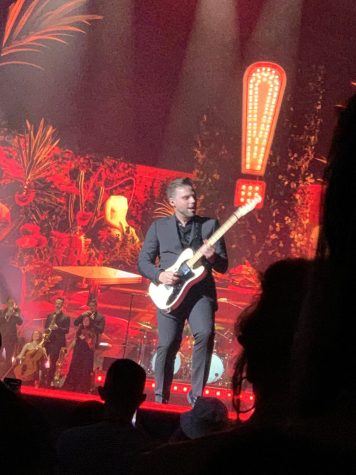 Then, the thing I'd dreaded finally happened. The entire new album. In order from start to finish: 12 songs demonstrating the decline of vocals, music, and lyrics. Guitarist Dan Pawlovich and bassist Nicole Row generated some heat with their interactions as they moved from corner to corner of the stage. The projections and lights were impressive, and fans gamely danced along to the new songs. But it wasn't just me; there was a substantial drop in audience energy during this entire part of the show. Of course, new songs are always less known, so it's harder for the crowd to sing along, but even the applause was weak. Lots of us actually sat down. 
Oh, dear. This was like watching a documentary about the decline of a rock star, but in real-time. I couldn't escape thoughts of Elvis Presley after he started gaining weight and taking drugs to fight the exhaustion of a grueling performance schedule. It may sound stupid, but the life of a rock star is not easy, no matter how privileged. Every mistake is magnified and the star is impossibly expected to be both perfect and human. Social media criticism is brutal, but even pure fandom is a lot to deal with. Brendon Urie's fans are passionate. Have we demanded too much from him? Are we killing him with our love?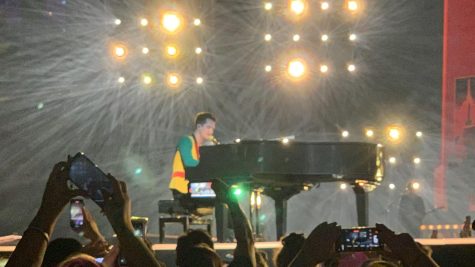 Despite the ebb of energy that came with the new material, there were peaks: Don't Let the Light Go Out was made for clap-your-hands-and-chant-along moments. Rock fans love to think of themselves as rebels, so they enthusiastically welcomed Star Spangled Banger's proclamation "We are the mass hysteria / in the land of the brave / home of the freaks." Always happy to hear about themselves, fans appreciated Say It Louder "for the people in the back." When a piano rose up out of the stage the crowd went nuts. Ever the showman, Urie took the bench and gave an emotional performance of the obviously biographical God Killed Rock and Roll.
For the last movement of the show, Panic! returned to older material, and the crowd was grateful. As is tradition at P!ATD shows, the crowd held colored paper hearts in front of their phone flashlights to form a giant rainbow as they sang Girls Girls Boys. House of Memories sounded like a plea from Urie for us not to forget him (we won't!) Urie returned to the piano and gifted us with a nostalgic performance of Nine in the Afternoon, one of the band's earliest hits. Death of a Bachelor followed and should have been a high point, but the vocal strain was evident and detracted from the song's soaring beauty.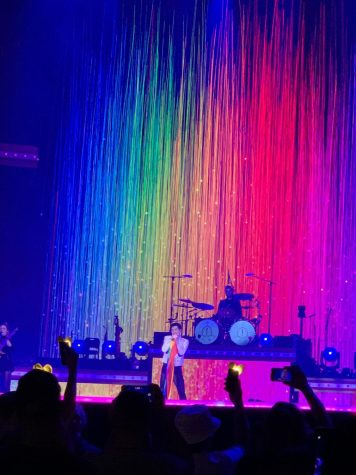 One of the finest moments of the evening came in the form of I Write Sins Not Tragedies, an old fan favorite. Urie seemed genuinely appreciative of his fans, truly glad to be in front of an enthusiastic audience and touched by the fervor with which the entire crowd sang the complete lyrics. In fact, he took a long vocal break, just letting the audience carry the number. 
"That's the best it's ever sounded," he remarked after the passionate audience performance.
With shared credit to the new Moody facility and the P!ATD road crew, the technical aspects of the show were impressive. A state-of-the-art light show, dramatic and colorful projections, pyrotechnics, and crystal-clear sound quality made it easy for the audience to enjoy the spectacle from any seat in the house. 
A low-key VIP lounge offered a less-crowded bar and bathroom, along with free food and sodas. Fans with VIP lanyards could peruse the "house of memories" collection of costumes, props, and other memorabilia. The mirror-ball piano from the Death of a Bachelor tour was available for fans to sit at and touch, and a simple photo booth offered to place your image on a P!ATD album cover.
The Moody Center runs smoothly; bars and bathrooms are conveniently located, the entire facility is cashless, and in general everything is very civilized and easy. A surprising number of real food options are available. The seats are more comfortable than I'm used to. Parking, on the other hand, is an absolute nightmare. Construction in the Capitol complex multiplies the difficulty. Compared to the old Frank Erwin Center, with its convenient hospital parking garage, the Moody has real parking problems. Patrons are encouraged to pre-pay for parking in one of the University of Texas garages, but charging $40 for event parking in a garage that normally has a $15 daily rate just doesn't seem reasonable.
For fans who have tickets to later shows on the tour, I say hang on to them. Go with an open mind. Most likely the show will undergo some tweaks after the first performance or two, and of course every night is unique. The set list is already pretty solid; you'll have to endure the new album, but there are plenty of old favorites to look forward to. The most concerning aspect of this tour is Brendon Urie's health. Here's hoping he takes good care of himself and that beautiful voice returns.
Leave a Comment
About the Contributor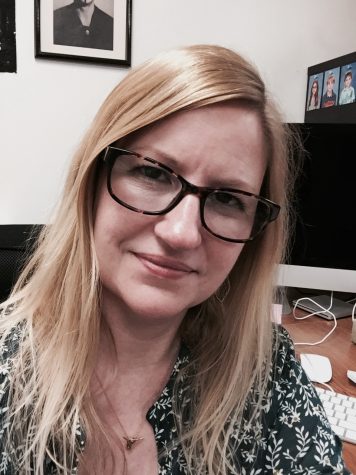 Lanie Catuogno, Faculty Adviser
Ms. Cat here. I've taught journalism and advised the Westwood Student Press since 2013. Before that, I taught graphic design and advised yearbook staffs...