Library Hosts Thanksgiving-Themed Breakout Rooms Ahead of Break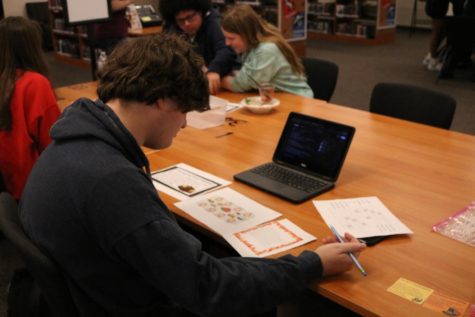 On Nov. 17, the library hosted a breakout room for students during lunch. The puzzles and problems were Thanksgiving-themed so that students could have a fun activity to do before Thanksgiving break started.
"'[The librarians] just wanted to have something fun, a little brain break before the holidays," librarian Ms. Lauren Kluck said. "We did [a breakout room] with a class a few weeks ago and the students really liked it so we wanted to try a holiday-themed one."
The breakout room kits, which the library had already had from several years ago, had been modified to fit the time period for lunch. Everyone who participated in the challenge won a punch card to print 10 pages on the library printers for free. Students who succeeded in opening the breakout box were able to pick two prizes from a mystery box.
"It's a lot more fun than I thought it was going to be," Nathan Spector '25 said. "I thought it would be like a Google Form but it [was] an actual physical event. It [was] a lot of fun doing it with my friends. We [had] to weirdly know some history and English stuff like similes and metaphors."
The library plans to host more breakout rooms and activities for the students in the future, including a Valentine's themed breakout room in February.