PTSA Highlights Social Media Safety at 'TikTok Runs in the Family'
PTSA hosted "TikTok Runs in the Family," a dinner discussion about TikTok's latest safety features and responsible social media usage, on Wednesday, Nov. 16. The event hosted a variety of performances, including a drone flyover, student performances, a cheerleading routine, and door prizes.
Many important local and national figures were in attendance, including State Representatives, RRISD Superintendent Dr. Hafedh Azaiez, several National and Texas Parent Teacher Association(PTA) members, and representatives from TikTok.
Despite the joint event, RRISD and TikTok don't have the happiest history. Late last year, RRISD reported damages in excess of $15,000 due to a series of stink bomb attacks that forced a mandatory gas line test amidst the "devious lick" trend.
Following a short display of student programs, officials from the National PTA and TikTok spoke about making both the Westwood community and the broader online community safer. Melissa Hoskin, president of the RRISD Council of PTAs, opened the discussion by describing the inception of "TikTok Runs in the Family," and how PTA had reached out to TikTok after the "devious lick" trend in order to encourage students to use social media in a more positive way. She was followed by master of ceremonies and former National PTA Connective Ambassador Collin Robinson, who emphasized that student mental health was "a top priority" for the National PTA, and that TikTok, National PTA, and Texas PTA were doing their best to improve student mental health with informative events like this dinner.
Next to the stage was TikTok's Senior Director of Public Policy Eric Ebenstein, who spoke at length about TikTok's new safety features, which include "private" profiles for minors that restrict video posting, self or parent-enforced screen time limits on the app, and mature content filters. Ebenstein even took responsibility for the "devious lick" trend, saying that in some ways the harmful trend was "on us," but assured attendees that TikTok had diligently worked to ban countless hashtags and videos amidst the trend's spread. Ebenstein reminded the audience that he was not there to convince parents or students to download TikTok. However, he did encourage existing users to post videos and have fun on the platform.
Despite these significant strides, many multi-million dollar lawsuits against TikTok and its parent company, ByteDance, have arisen recently over concerns that the app sells user data illegally, including the data of minors. One such lawsuit ended in a $92 million settlement late last month.
"[Information security was] a big factor that we discussed when deciding whether we would put on this event [but] the point of this event is to show how TikTok is doing their part to address these concerns," PTSA student representative Vinay Pillai '23 said. "Neither [TikTok nor the PTA] wanted any of these bad things to happen."
Despite these concerns, the data security of TikTok users was not discussed at the event. Following Ebinson's speech, he answered questions that had been pulled from the audience ahead of time.
"There are people who see a big tech company coming into town, and maybe they think that the goal is to [get] everyone onto TikTok," Robinson said. "How do we know that TikTok actually cares?"
Ebenstein understood the concerns but told the audience that recruiting wasn't his goal.
"I'm [in] public policy. My job, my role, is to make sure that people who are choosing to use the platform have a good experience using it," he said.
Robinson then spoke to some of Westwood's PTSA student representatives, asking them questions about their social media usage, as well as their best and worst experiences on social media. All five representatives used, and enjoyed TikTok, and some encouraged audience members to find and create wholesome or educational content on the platform.
In the last hour of the event, students and parents split up. Students followed Robinson into the great room, where he facilitated a discussion about making the Westwood community safer digitally and physically, as well as discussing goals for social media usage.
"What are we doing on these platforms to make our lives a little better?" Robinson asked.
Students placed sticky notes on a board, outlining their goals for using all social media platforms, including TikTok, positively. The group discussed how interacting with negative content on social media could lead to more and more negative content recommendations. But the inverse, Robinson said, is true as well.
After the discussion, Pillai shared his thoughts as the students returned to their tables.
"The discussion was good because [we] learned a lot about the ways we can use not just TikTok but social media in general in an educational and motivational way to uplift yourself and others," Pillai said.
Meanwhile, parents had table discussions about their kids and social media, talking about better ways to make sure that students are using social media in a beneficial way. Parents also had the opportunity to talk to Ebenstein and National PTA representatives about TikTok and social media.
As the parents and students came back together in the cafeteria, PTSA student representatives drew tickets and handed out door prizes to several lucky winners. Prizes included an Xbox minifridge, winter clothing, a coffee machine, a karaoke machine, Amazon gift cards, and other prizes. Hoskin closed the event with a thanks to all the people from the PTA who worked hard to make the dinner possible.
Leave a Comment
About the Writer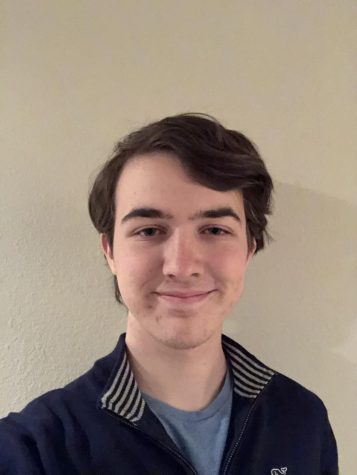 Baker Tuthill, Reporter
Class of 2023

Hi! As a lifelong reader and writer, I am excited to join the Horizon team this school year. On the page, in the debate room, or on the...