HOSA Students Advance to State Leadership Conference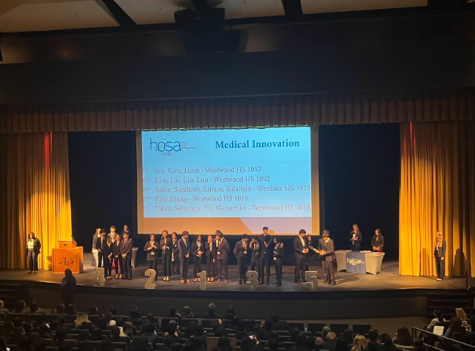 On Friday, Jan. 20, members of Health Occupations Students of America (HOSA) , ventured south to Seguin High School to compete at the Area 1 Spring Leadership Conference (SLC). Members spent months preparing projects, posters, scripts, and more: testing their knowledge and passion for health science.
60 students competed, in events varying from teamwork, leadership, and emergency preparedness. In each competition, the top five competitors placed, however only the top three advanced to state to compete at the next level. The top five competitors in each online testing event, as well as the top 5% of those who took the Health Care Issues Exam(HCIE), will also advance to state. 
Below is a list of those who placed and advanced:
SLC:
Placed:
Biotechnology: Rajonna Sen '23 (5th Place)
Nursing Assiting: Aditi Mohankumar '24 (4th Place)
Physical Therapy: Amia Nauls '24 (4th Place)
Veterinary Science: Joyce Yu '24 (5th Place)
Public Health: Siona Shah '24, Selin Anilturk '24, Shrivetha Senthil '2l, Sobhisri Suthakar '24 (4th Place)
HOSA Bowl: Hyunjae Lee '23, Wesley Yeung '23, Vinay Pillai '23, Allen Garcia '23 (4th Place)
Medical Innovation: Andrew Seo '23, Seokhyun Kim '23, Anish Jacob '23 (5th Place); Minsung Kim '25, Shuyu Lai '25, Harry Liu '25, Marlene Luo '25 (4th Place)
Health Career Display: Tulsi Joglekar '24, Ashley Bui '24 (5th Place)
Advanced:
Healthy Lifestyle: Gauri Paturi '25 (3rd Place); Dawoon Jung '25 (2nd Place)
Researched Writing and Speaking: Rutu Ruparel '25 (1st Place)
HOSA Bowl: Armaan Srireddy '23, Alan Jaf '23, Sanjay Amirthraj '23, Brain Jeon '23 (1st Place)
Medical Innovation: Maggie Fan '23, Enxi Zhang '23 (2nd Place); Sheevani Talati '24, Shreya Selvaraju '24, Benjamin Yu '24, Karill Nazarenko '24 (1st Place)
Forensic Science: Ruth Thomas '26, Alexis Hwang '26 (3rd Place)
Medical Art Poster: Jiatong Gao '26 (1st Place)
Online Testing Results:
Placed:
Behavioral Health Health Science: Mahathi Harith '25 (4th Place)
Human Growth & Development Health Science: Krish Arora '25 (4th Place)
Medical Law and Ethics Health Science: Naina Asuthker '25 (4th Place), Kaushik Nagarajan '24 (5th Place)
Advanced:
Behavioral Health Health Science: Vibah Velur '23 (1st Place); Prisha Goyal '25 (2nd Place)
Cultural Diversities & Disparities in Healthcare Health Science: Sanjay Balasubramanian '24 (2nd Place)
Dental Terminology Health Science: Leon Chen '24 (1st Place)
Epidemiology Emergency Preparedness: Tanvi Reddy '25 (2nd Place)
Health Informatics Health Science: Aakanksha Mahajan '23 (1st Place), Sanam Talreja '24 (3rd Place)
Medical Law and Ethics Health Science: Medha Katragadda '25 (1st Place)
Medical Math Health Science: Minseong Jung '24 (1st Place)
Nutrition Health Science: Yujie Zhang '25 (1st Place), Riya Patil '24 (2nd Place)
Pharmacology Health Science: Daniel Wong '25 (3rd Place)
Healthcare Issues Exam: Hyunjae Lee '23, Rohan Satija '25, Jiya Dave '24, Thavaniketh Kusu '24, Aditi Mohankumar '24, Rithik Polavaram '24, Sanjay Balasubramanian '24, Kiril Nazarenko '24, Sobhisri Suthakar '24, Adarsh Ambekar '23, Seokhyun Kim '23, Lasya Adivi '23, Vinay Pilla '23i, Sanam Talreja '24, Aimee Wang '24, Andrea Dong '23, Chenyu Gu '23, Benjamin He '23, Sanjay Amirthraj '23, Prisha Kakliya '23, Rafay Chaudhry '25, Allen Garcia '23, Sydney Yeung '24, Jennifer Yun '25, Daniel Nam '25, Rira Suh '23, Sophia He '25, Issac Wang '23, Ganesh Kumarappan '23, Kavin Poovannan '24, Armaan Srireddy '23, Brian Zhang '24, Loy Bhowmick '25, Rahul Suresh '25, Angela Fu '25, Dawoon Jung '25, Ashley Bui '24, Leon Chen '24
Leave a Comment