Keeping Up the Tradition of Prom Dresses: Elegant or Too Extra?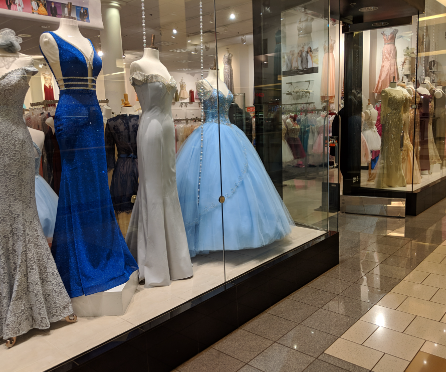 Prom has been an established event for high schools and colleges since the early 1930's. Obviously, over the years the dress code has developed and progressed in many ways. In recent years, the trendy styles have been very recognizable. Sparkly, poofy, shimmery, you name it. When you think of prom, you know exactly what style is being referenced. There are even designers who specialize in prom dresses alone. Sherri Hill, Jovani, the list goes on. People around the country enter a craze when prom season comes around every school year. The real March Madness for American high schoolers is the unofficial start of the prom buzz. Despite the widely established prom norms, 2023 has been a year of change for high school prom culture. There's been a widespread shift from over the top, borderline tacky prom dresses to simple, mature, and adult-like wedding guest dresses. Is it for the best? Is it time to leave the extravagant prom trends in the past? Or should we really just stick to tradition?
We have all seen the insanity of the dresses some girls wear to prom. Especially in the South, it's normal to take the event and dress it up to the max. However, the proms that have happened already this year have been revolutionary for the world of prom trends. Instead of spending hundreds and hundreds on customized dresses that sparkle brighter than the sun, girls this year are taking trips to their local Nordstrom or Zara to pick out a simple dress. One of the most popul ex ar styles this year has been satin dresses, specifically, strapless. I've seen a lot of simple slip dresses taking the high school girl world by storm. Another popular style is sundresses. Don't get me wrong, I love a good summery sundress, but they belong at the country club or a nice brunch, not at prom. Although these dresses can be stunningly elegant, it's a bit saddening to see the styles become more dull. To some, it's straining to see the extreme dresses worn. But in my opinion, we should all stick to the past trends.
The main reason I think it's important to continue the extravagant dress code for prom is because once people make prom casual, it can only go downhill from there. This year, girls are wearing casual long dresses. If casual dresses are in style, one can only imagine what will be coming in future years. It could end up being short dresses, or not even dresses at all, if the "dressing down" prom trend continues. Prom is an occasion for teenagers to show up and show out. It's for making memories, going all out, and wearing things you wouldn't be able to wear on a normal day. Taking prom and turning it into a "cute-casual" dress code takes away the originality and fun of the event. Some may argue that despite what's trending, some girls just prefer to wear a comfortable and simple outfit. To that I'd say go for it, if that's your style you should absolutely embrace it. Prom is for doing what makes you feel most confident and showing off your personal style. The problem begins when girls who would prefer to go over-the-top end up wearing something more tame because the trends are telling them they need to dress for a day on the town instead of an exclusive gala. In my opinion, there is no such thing as being overdressed. If you feel best dressing to the nines, then you should be able to do that under any circumstance. Especially at prom, it is important to continue normalizing going above and beyond with your looks.
An obvious barrier between an extreme look and a simple one is how expensive traditional prom dresses can be. Obviously, not every prom attendee is willing to splurge on an extravagant dress. Depending on the brand, those insane dresses can get into the thousands of dollars. To most, this is an absurd way to spend your money, especially as a teenager. However, thanks to the increasing popularity of prom over the years and the growth of the internet, there are places where you can find a dress for $20, and others you can find one for $2,000. For example, there's a store in Cedar Park called Atiana's that carries stunning prom dresses for as low as $70. There are also online stores that have dresses for even lower prices than that, such as LucyInTheSky, Whitefox, ASOS, and more. Prom is truly what you make it, and anyone can show off and look good at prom no matter how much money you spend on your look.
Overall, I strongly believe and encourage you to not hold back on your prom look. That night is your time to show off, feel gorgeous, and wear something really special that may be a once-in-a lifetime opportunity. Yes, the simplicity of this year's prom trends are pretty. Yes, it is much easier to go casual for prom. All these things may be true, but all in all, it can't get better than going above and beyond. It's your night to look like a princess, so use it wisely.