Westwood DECA Gets Edge at International Conference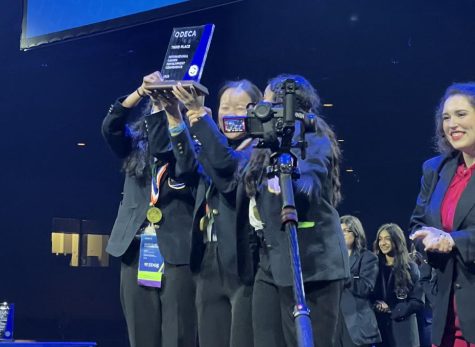 Decked in blazers and professional attire, Distributive Education Clubs of America (DECA) students saw success at the 2023 International Career Development Conference (ICDC) in Orlando, Florida from Saturday, April 22 to Tuesday, April 25. Out of the 50 competitors representing Westwood, 12 students were recognized for their excellence, with one team garnering a 3rd place in the world title. 
As the conference began, over 20,000 members gathered at the opening ceremony where they networked with students by trading pins. Each state was given pins and hats representing popular elements of their culture, and members were tasked with exchanging them. At the ceremony, chapters and states were recognized for their membership growth and community service. Members were also enlightened by guest speaker and investor Sterling Hawkins, who discussed the importance of business leaders taking risks no matter the circumstance. The ceremony ended with entertainment from America's Got Talent 2019 Runner Up, The Detroit Youth Choir.
"When the DECA representatives waved their flags on stage [at the Opening Ceremony], the rush of pride you feel [when] you realize that you are representing Westwood, Austin, and Texas at an International level [is] exhilarating," DECA member Uma Sthanu '26 said. 
On the second day of the conference, DECA's theme "Get That Edge" rang true, as competitors met with business professionals to demonstrate their proficiency in many areas of business through written presentations, exams, and case studies. After competing, members had the opportunity to garner exposure to different professions and college majors through exhibits held by local entrepreneurs and admissions officers. 
"The roleplay for ICDC was something new and challenging that we'd never seen before for marketing," DECA member Daniel Nam '25 said. "However, it drove my partner and I to think outside of the box." 
Despite the scurry of competitions, leadership academies, and exhibits, members still had the opportunity to explore Orlando's amusement parks. The organization hosted DECA Night at Universal Studios where DECA rented out the park for members to enjoy themselves, and also provided attraction tickets to Disney World. 
"Universal was absolutely fun, the only problem was it poured [rain]," Charlie Hui '26 said.   "It was really cold but worth it." 
The final day of the conference consisted of the preliminary awards ceremony, where students were recognized for their testing and roleplay scores and learned if they had placed in the top 20 in the World to compete in finals. 12 students from Westwood placed in the top 20, and 7 students qualified to finals. 
"I was awarded for my testing, and I am confident that [these skills] and connections I gained through DECA will be helpful for the rest of my life," Sthanu said. 
Concluding the conference, DECA glass trophies were awarded to those who placed in the top three at the closing awards ceremony. Sophomores Shivani Kondubhatla, Shrishti Mahajan, and Bailey Zhang earned 3rd place. 
"[Winning] felt really surreal, and we honestly didn't see it coming at all," Zhang said. "I think even right now, it hasn't sunk in yet." 
Below is a list of students who were awarded for their excellence at ICDC:
Top 20:
Business Law and Ethics Team Decision Making – David Li '24 & Ayush Tripathi '24 
Hospitality and Tourism Operations Research – Shivani Kondubhatla '25, Shrishti Mahajan '25, & Bailey Zhang '25 
Travel and Tourism Team Decision Making – Kevin Han '23 & Ashish Jacob '23
Top Testing: 
Hospitality and Tourism Professional Selling – Varshini Loganathan '24 
Principles of Business Management – Uma Sthanu '26 
Principles of Marketing – Charlie Hui '26 
Accounting Applications – Yuejia Yeong '26 
Business Law and Ethics Team Decision Making – David Li '24 
Entrepreneurship Team Decision Making – Ishan Dasgupta '23  
Top Role Play: 
Travel and Tourism Team Decision Making – Kevin Han '23 & Ashish Jacob '23
Top 10: 
Hospitality and Tourism Operations Research – Shivani Kondubhatla '25, Shrishti Mahajan '25, & Bailey Zhang '25 (3rd in the world)
Leave a Comment