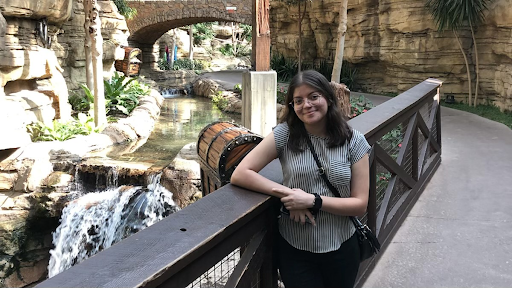 Tucked in the back of the D-wing, a dimly lit classroom plays calming music in the background. Decorations string across cabinetry and whiteboards; a peaceful environment curated by Ms. Cindy Rodriguez. Her journey as a teacher did not start in this classroom though; her path to becoming a Westwood math and robotics teacher started in her childhood home in Houston, Texas. 
"When I was super little, me and my cousin, we had this door underneath the bathroom sink," Ms. Rodriguez said. "We'd open [it] up and that would be my 'office' as a teacher."
Ms. Rodriguez attended college at the University of Texas at Austin (UT) where she spent five years finishing her degree. All throughout this, she had yet to decide what she wanted to pursue. 
"I started off [pursuing] a Biochemistry degree then I was like I don't really like chemistry," Ms. Rodriguez said. "Then I was like, you know what I really like physics, so I did physics for two years. Then I realized I really liked the math part of physics"
Ms. Rodriguez found her way back to teaching through a series of internships. 
"I started at the UTeach program at UT as a sophomore, and after that I worked on a series of internships," Ms. Rodriguez said. "I worked at Kealing Middle School for a little bit and did a couple more internships. I think that's what really solidified I do want to work with kids"
Ms. Rodriguez was initially brought to Westwood through a long-term substitution job, where she taught Geometry from the end of February until May of last year. She is now a teacher for College Preparation Math and Principles of Robotics. 
"Westwood is just so big and has so many extracurriculars and so many different types of students that it's just really cool," Ms. Rodriguez said.