Every year, in the months of September and October, DECA club members start selling World's Finest Chocolate bars to fundraise for their club. And every year, students and faculty alike prepare their $1 bills to spend on these bars. Westwood Student Press conducted a survey asking students what they thought about the chocolate and the results were fascinating.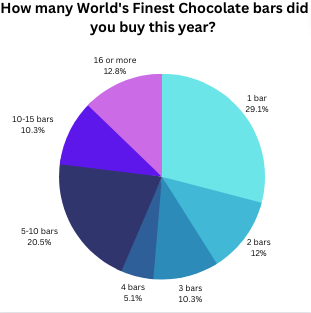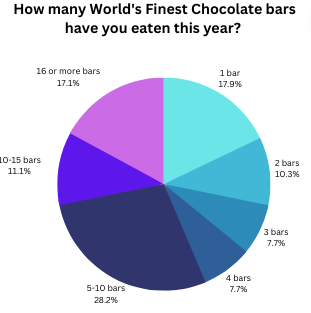 In fact, out of the 117 people surveyed, over 71% bought more than one bar, with 23.1% buying ten or more, and interestingly enough, while only 20% of respondents reported buying five to ten bars, 28% say that they ate that same amount, meaning that many were able to get bars through methods other than purchasing chocolate themselves, such as gifts from friends.
And it's easy to see where students are coming from. World's Finest Chocolate is surprisingly a very good chocolate bar. It comes in the perfect size and it is divided in such a way that it is easy to share with friends, while also being the perfect quantity for yourself. The six available flavors, which include Milk Chocolate, Dark Chocolate, Caramel, Wafer, W.F. Crisp, and Almond, cover almost all the chocolate flavor bases a person could want. Whether it's nutty, crispy, crunchy, or smooth, everyone can find something they like in that box.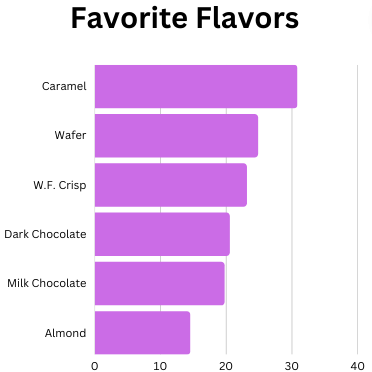 My personal favorite is the W.F. Crisp. It is the perfect mix of chocolate and crispy. It is satisfying to hear the crunch as you bite down, and it doesn't taste as artificial as Wafer does. According to the survey responses, most Westwood students think Caramel is the winner, with over 30% saying that it's their favorite. But you really have to be in the right mood to have caramel, and it can get really filling really fast. While it's no secret that Almond came in last place for flavor, with only 14% of votes, Almond is not that bad. I wouldn't call it my favorite, but it's definitely a good flavor to enjoy from time to time.
As Halloween rolls around and people start stocking up on candy and discussing their favorites, I think about how World's Finest Chocolate has slowly changed these first few fall months of school into something Westwood students look forward to, and how a single chocolate company is now associated with so many memories.