Mayurika Gupta '18 Founds Westwood Girl Up Club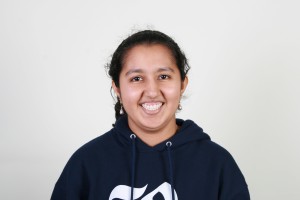 The room hummed with a floating silence, save for the tapping of fingers and soft, even breathing. The quiet air absorbed a final, decisive sound as Mayurika Gupta '18 hit 'send' and leaned back with satisfaction. It was one of many replies to the numerous emails and texts she'd received concerning the new club she'd started: Westwood Girl Up Club.
Girl Up is a United Nations Foundation campaign that helps fund and support United Nations Agencies focusing on adolescent girls. Funds support some of the world's hardest-to-reach girls through five core pillars: education, health, violence-safety, leadership, and count. There are more than 500 registered Girl Up clubs in over 30 states and 30 nations, and some members have even gone to Congress to advocate for girls' rights.
"[We aim] to empower others to get involved, teach their communities that girls matter and make sure that girls in developing countries are educated, healthy, safe, counted, and positioned to be the next generation of leaders," Gupta said. "In partnership with the UN, we stand up for girls, speak up for programs that help them thrive, and rise up as a community of advocates out to change the world, for good."
Gupta originally found her passion for the cause in middle school, although she couldn't immediately find an outlet for it.
"I first got interested after watching Girl Rising, a documentary highlighting the stories of nine girls from underdeveloped countries, in 7th grade," Gupta said. "I wanted to host a screening of [the documentary] at school, but I couldn't, unfortunately."
When Gupta found out about Girl Up, however, the sparks of inspiration quickly grew into a bright flame.
"Last spring break, I went to SXSW and went to a few events on women's equality and found out about the Girl Up organization," Gupta said. "I even got to talk to a few members of the main Girl Up organization and others who work in Congress!"
Despite a smaller turnout than expected for the first meeting, Gupta maintained a sunny outlook for the future.
"I'm a little concerned on the commitment the club members will have to the Westwood Girl Up Club over other clubs because of the club meeting days," Gupta said, "but overall I'm looking forward to the club."
Not even limitations on activities of the new club could discourage Gupta from setting ambitious goals.
"This year, we can't fundraise because we are a first-year club, but in the next years, we are planning on hosting screenings and having other fundraisers to raise money for the Girl Up organization and spread awareness to the rest of Austin," Gupta said.
The next meeting of the Westwood Girl Up Club is on Nov. 17 in E1311.