Westwood held its annual blood drive on Tuesday, Nov. 3 in the Athletic Foyer from 8 a.m. to 4 p.m. More than 100 students and teachers attended this event and impacted a wonderful cause, and in total, an astounding 81 units of blood were donated.
This year's blood drive was specifically driven towards one person, Braylon Burke Whitfeld, the grandson of one of our teachers, Mrs. Judy Burke.
"My grandson, Braylon, has hereditary spherocytosis. This blood disease does not allow his red blood cell count to rise to a healthy level," Mrs. Burke said. "Consequently, when he is exposed to various viruses his immune system becomes compromised."
When Mr. Keith Gaines became aware of this situation, he along with Ms. Kelly Saenz decided honoring Braylon through the drive would be helpful to both him and the donors.
"Students would know their decision to give blood would be benefiting someone right here in the Round Rock ISD community," Mrs. Burke said.
Braylon requires frequent blood transfusions. However, this drive will help decrease the cost of those treatments.
"This blood drive will actually help offset some of his medical bills; transfusions cost money," Mr. Gaines said.
The blood drive itself went very smoothly, thanks to all the medical practitioners and Health Science students.
"I think it was super easy, it was really well organized," Ms. Jordan Seidl. "I liked receiving my little hall pass so I knew exactly when to show up, and it went really well."
Donors, who must be at l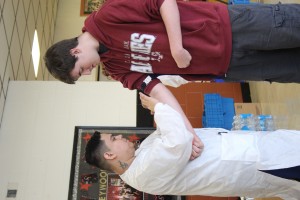 east 17 years of age and weigh greater than 115 pounds, were first asked to check in as they came into the foyer. Following this, they read through an informational packet on their donations and the process. They were registered and taken behind a divider to fill out information on their medical history to see if there was any reason not to be able to donate. Students and teachers then had their blood tested for iron levels to ensure their blood was eligible to give to others. After this, they were ready to begin donating.
The arms of each donor were prepared with a tourniquet, so the doctors could easily find a vein, and cleaned with a disinfectant. After drinking an entire bottle of water, the doctors placed a needle into the vein and drew blood.

"The process was pretty easy," Vikas Potluri '16 said. "They guided me through everything, and it didn't hurt too much, it was just a prick."
Participants each donated a pint of blood which is substantial amount. As a result, afterwards, the participants sat in a resting area with snacks to recover before going back to class.They were also asked to avoid strenuous activity.
Students and teachers alike had a multitude of reasons for donating. Some felt that it would be beneficial to those who needed it.
"It doesn't really affect me in the long run but if it can help somebody else, then why not do it because I have enough blood to give," Rachel Gorban '16 said.
Others had personal reasons for donating their blood.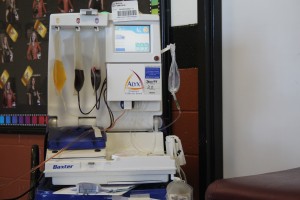 "I think it's really something small you can do just to really make an impact on other people's lives," Ms. Jordan Siedl said. "I personally donate blood in honor of my dad, he was O-negative and loved to give blood but can't donate anymore because of blood cancer, and so I donate instead of him."
This blood drive displays the true spirit among Warriors. Every donation slot was filled, and participants were eager to donate to help a great cause.
"Giving blood so others may live is a humanitarian act of kindness.  It is very much appreciated by people in need," Mrs. Burke said. "This is wonderful and very moving for our family and many other families as well."