Student Hosts Concert to Benefit Austin SIMS Foundation
Many of Westwood's talented musicians performed in It's a Blue Night, a benefit concert on Feb. 27. Neel Homchowdhury '16 organized the concert to benefit the Austin SIMS foundation, successfully raising $1,009 , all of which will be going to the charity.
The Austin SIMS foundation is a nonprofit charity organization devoted to helping Austin musicians. Many musicians in the area suffer from mental health issues, such as depression. The organization was founded 20 years ago, when Sims Ellison, an Austin musician, took his life when he went through depression. After the tragic event, Don Ellison, Sims' father, worked with other members of the community to create the SIMS foundation. The charity helps musicians by reaching out to therapists who encourage the entertainers, making a positive impact.
"This was the first time we had an event formed independently by the students, and not in conjunction with the Westwood staff," Homchowdhury said. "This was a really interesting opportunity, and I enjoyed doing it a lot"
The concert consisted of ten different acts, ranging from playing musical instruments, like violins and pianos, to singing a song. Jerry Chen '16 performed on the piano, playing La Campanella and Rhapsody in Blue, and accompanied a violin duet by Shostakovich later on. There were multiple singers, including Raina Saksena '16.
"I really wanted to help out at this concert, and it was for a good cause," Saksena said. "I thought it would be a great idea to get together with my friends for this huge opportunity and share our passion with the community."
The last act of the concert featured a jazz band which began by playing Atchafalaya by Snarky Puppy, arranged by Wakie Chao '16, and brought back Tyler Jacks, a Westwood graduate, for a trombone solo. The final song of the concert was Tank! from Cowboy Bebop, which featured a saxophone solo from Chase Scelsi '18. Overall, the concert was a huge success, raising a large amount of money for the SIMS foundation by showcasing Westwood's musical talent.
"It was really fun and satisfying at the same time, to perform on behalf of other people," Scelsi said.
Leave a Comment
About the Contributor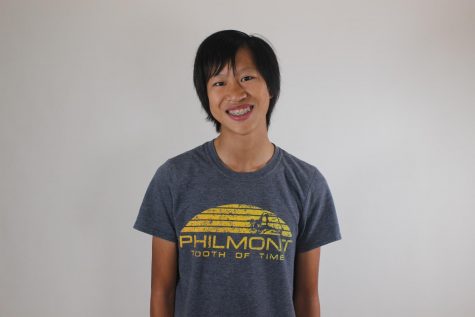 Ethan Lao, Yearbook Designer
In my spare time, I enjoy the fine arts, especially music and art. My hobbies include playing both piano and saxophone, as well as playing in various sports....