DECA Members Advance to Internationals
Jenny Xu, Executive Editor
March 3, 2017
Students bustle across the convention center, dressed in business attire and clutching projects, essays, and various materials. Thin blue curtains separate them from their competition, with each participant working hard to be the top competitor in their group. Held in San Antonio, students from all across the state gathered to compete in the Distributive Education Clubs of America (DECA) State Career Development Conference (CDC) on Feb. 23-25.
A total of 127 Westwood students competed in the conference, with 28 first-place winners advancing to the International Career Development Conference (ICDC) held in Anaheim, and 37 alternates. Each event was divided up into a number of groups, and those who placed at the top of their group would move on to ICDC. Competitive events ranged from online events to individual series.
"My event was financial consulting, so to prepare for it it was kind of a mix of [knowing] the topic beforehand, and get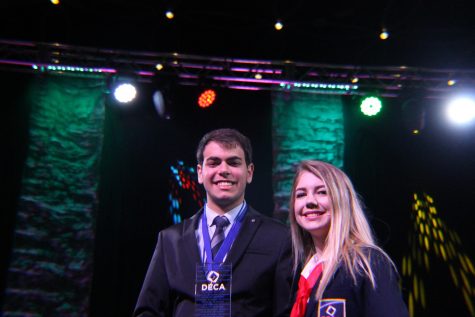 ting the information from the judge on the spot," ICDC-qualifier Aditi Merchant '19 said. "I actually didn't think I did that great in the interview because I felt like it was less collaborative than the one in districts, but it was cool getting to go up on the stage and getting to go to Anaheim."
Group events were also available, including team decision making and chapter team events. These often include preparing presentations and essays.
"It definitely makes it less nerve-wracking [to work with a partner] because if your partner is confident then you're naturally just as confident, and you don't have to memorize as much," Bella Smith '17 said. "We didn't think we were going to move on even though we moved on last year, but we hope we have fun and do well. We were definitely more knowledgeable this year, we knew what we were supposed to be doing and were more confident."
Because the competitive events were held on Friday only, students had the remaining time to explore downtown San Antonio.
"We were allowed to leave the hotel and walk around the riverwalk, and we also got to look at the Alamo," Merchant said. "I liked seeing all the ruins and getting to explore [the Alamo]."
Those advancing to ICDC will have the opportunity to compete with over 10,000 DECA members from across the world, while also visiting theme parks such as Disneyland.
"I look forward to the kids making it on the stage as the top 10 finalists in the nation," chapter sponsor Ms. Beverly Cowsert said. "We had a record number of students that made it to state, and I like to see how competitive everyone is in all of the schools in our state."
The full list of alternates and advancers can be found here.