Varsity Softball Drops to Stony Point 1-9
Following the JV team's 7-9 loss, the varsity softball team suffered a 1-9 game against the Stony Point Tigers on Monday, March 13.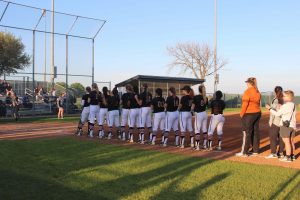 The night started with Jena Hawks '17 up at bat. Despite Hawks being walked by the Tigers' pitcher, no additional batters were able to get on base and Hawks was unsuccessful in coming home. In the bottom of the first inning, the Tigers brought in four runs. A big hit to center field nearly cleared the fence, however was quickly played by the Lady Warrior outfield, and only allowed the runner to advance one base.
"We didn't start as strong as we needed, but we didn't give up," Meghan Hendricks '18 said. "We still played hard."
The Lady Warriors were, again, unable to bring a runner in during the second inning. Despite having a runner at second and third base, three strikeouts followed and no advancements were made. The Tigers, however, remained at four runs and their turn at bat quickly ended with two pop-ups and a play at one by Charese Wyatt '17.
"I thought that we could've done better as team," third baseman Courtney Ogle '17 said. "We had some good hits, but we didn't have them in the times that we needed them, like, when people were on base."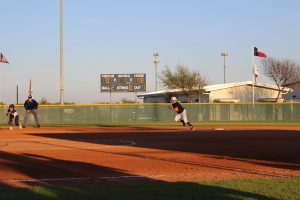 The first and only run of the night for the Lady Warriors came in the bottom of the third inning. Schyler Stockwell '17 was brought home with a double by Ogle. Ogle was unable to come home that inning as well due to a line drive caught by the Tigers' pitcher.
"We could've improved by being more confident when going up to bat and working on getting less errors defensively," Hendricks said. "I think we're going to learn from the mistakes that we made and we're going to improve and our future's going to be strong.
The next game will take place Tuesday, March 21 against the Pflugerville Panthers.