DECA Members Dominate at ICDC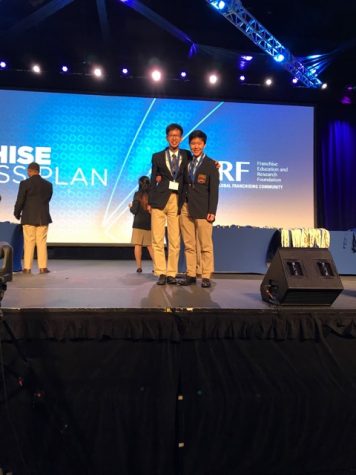 Every year, thousands of high school students, advisers, and business professionals attend Distributive Education Clubs of America's (DECA) international conference, where students have the opportunity to compete against the world's best in business-related events. Those who qualified for the 2017 International Career Development Conference (ICDC) traveled to Anaheim, leaving on Wednesday, April 26 and returning Sunday, April 30.
Two students placed in the top 20 of their event, with Saavan Myeni '20 in the Quick Service Restaurant Management event, and Jenny Xu '19 in the Principles of Hospitality and Tourism event. Sophomores Ian Chiu and James Joh placed fifth in Franchise Business Plan.
"Working with my partner definitely made it more interesting," first-time competitor Joh said. "Ian's one of my best friends, and working together was a way for us to support each other and keep on pushing each other."
Aside from competing, students had the opportunity to explore Anaheim, with popular attractions including Disneyland and the Anaheim Packing District.
"We went to compete but we also went to have a really good time," Devika Kumar '17 said. "I think going to the packing district was really cool to just see the vibrant and cool and quirky things that happen in other cities besides Austin."
In addition to providing attendees with the chance to compete against the world's finest, ICDC allowed students to interact with a diverse group of competitors from a variety of backgrounds. Texas' chapter had the most participants of the 19,000 students that attended ICDC, and a total of 28 Westwood students competed this year.
"We had a great group of students that competed well," adviser Ms. Beverly Cowsert said. "I always enjoy seeing how competitive the students are, and trying to do their best to win at competition in the different business events. Westwood usually does very well at ICDC, and we had another great year this year."
Students were also encouraged to promote their chapter while in Anaheim. Throughout the trip, Emily Gao '19 acted as a social media correspondent, sharing photos on social media and writing articles for DECA Direct, a news source for all things DECA.
"[The social media team] had been talking to each other for weeks before we got to ICDC, and when we got there it was really cool," Gao said. "We all got to go on stage during the grand closing ceremony."
Upon return, students faced a heavy load of make up work, as well as AP and IB tests.
"When you go on a trip with your friends you want to have fun and you try to maintain that balance and you try to study," Kumar said, "but I think it's important to focus on where you are. You're in a different city, you want to explore instead of being holed up in your hotel room."
In the long run, DECA allowed students to develop a variety of skills and establish connections with those in the professional world.
"The biggest thing DECA has given me is the soft skills, the interaction with real people and the real world," Kumar said. "There are valuable skills that we learn of presentation, collaboration, communication, and just getting that jump start has helped me want to further be in the professional world."