Recording Artist Wrabel Promotes Inclusive Themes through Music
Students were offered the rare opportunity to watch recording artist Stephen Wrabel, more commonly known as Wrabel, perform in the Great Room on Wednesday, Oct. 4 at 3:30 p.m.. The music video for Wrabel's newest single, The Village, was shown at the beginning of the event as an introduction to his performance. Inspired by two teenagers he met on tour, The Village highlights many of the daily struggles that the transgender community goes through.
"[The event] is really centered around The Village and what that song means to me," Wrabel said. "I saw how much it meant to the two kids I wrote it for, and they were very adamant about having people hear it. There's people all over the place that really need this message."
While Wrabel's other songs mostly concerned love and relationships, The Village drew inspiration from different themes.
"I think [The Village] definitely opened my eyes to writing in a different way," Wrabel said. "It really opened me up to write about other things and try to tell another person's story that's not necessarily my own. I've never worked on something where every single member of the crew was so passionate, I think we just tried to make something honest and tell a story — I think everyone's story is in there somewhere."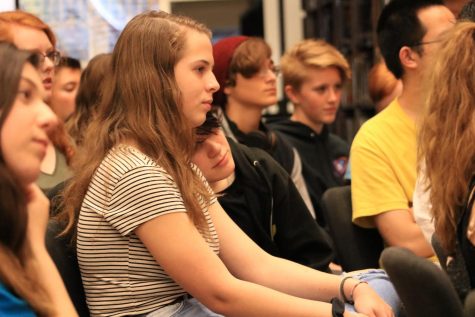 In addition to performing his newest single, Wrabel also sang well-known songs such as Bloodstain, 11 Blocks, and Ten Feet Tall. Afterwards, the floor was opened up for a brief Q&A. Students had the chance to ask questions ranging from sources of inspiration to hobbies and achievements. Insightful advice was also given to those wishing to pursue a career in the arts.
"I realized that anything is possible, that it's not just about what your parents want, what the world wants, or how much pressure there is on you," Sejal Jain '20 said. "You should do what your heart tells you to do. I've loved writing music since a young age, and my goal is just to be a better musician and share my ideas with the world."
Wrabel later spoke of his journey with music and sexuality, elaborating on how he began writing songs.
"I was deep in the closet in high school, and I really kind of started getting into music," Wrabel said. "I think I started realizing that this could be an outlet to say things that I can't say in real life, or don't feel like I can say in real life."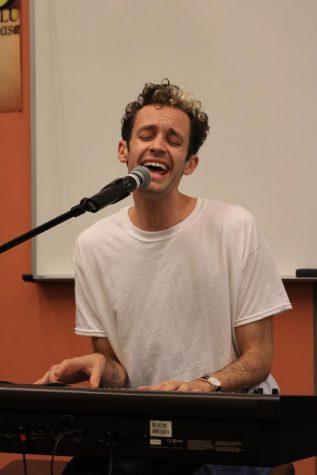 By visiting high schools while on tour, Wrabel hopes to spread the message shown in The Village.
"I think the biggest thing is to just be kind," Wrabel said. "Try to be understanding and try to put ourselves in someone else's shoes, and at least try to understand what that feels like. Kindness is so important, it does a lot for a person."
In the future, Wrabel plans on releasing a full-length record, and also expects a song with Kygo to come out next month.
"There are some other exciting things before the end of the year that I've been working on," Wrabel said. "I've just tried to keep going, and to look at every little thing as a big thing, and look at every little thing as an opportunity to grow and challenge myself. I'm just going to try to do something that's mine."
Leave a Comment