Catalonia Struggles to Achieve Independence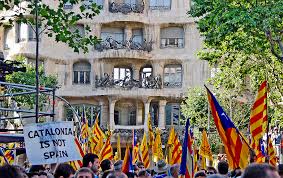 Over recent years, Spain's region of Catalonia has persistently expressed its desire of becoming a separate nation apart from Spain.
Catalonia, one of the wealthiest, most prosperous regions of Spain, has been a part of the nation for over 1,000 years. Throughout this time, Catalonia has essentially become self-serving, as it has developed its own flag, language, parliament, police force, and even provides some of its own public services, all of which have granted Catalonia a degree of autonomy since 1977.
For many years now, Catalans (the people of Catalonia) have expressed a displeasure at the state of their region. In November 2014, there was an unofficial vote on independence held by Catalans, and the results showed that 80% of voters favored secession. Then, in Catalonia's 2015 election, the separatists overruled the vote, which led to the creation of a binding referendum.
The fight for independence continued, and on Sept. 6, Catalonia enacted a vote with only one question on the ballot: "Do you want Catalonia to become an independent state in the form of a republic?" The results, essentially, concluded with 2,044,038 of the 2,286,217 pleading in favor of independence. This vote, though, was not as simple as it may seem. According to the Spanish constitution, a referendum such as this one is deemed illegal, which caused an influx of polling centers to be shut down and security forces to be implemented throughout the region.
Furthermore, as Spain's constitution states that it is indivisible, this vote has had no substantial impact on the state of the region other than the recognition of this collective idea. However, this has not stopped the Catalan government from imposing its intentions. On Friday, Oct. 27, the Catalan regional parliament illegally declared its independence from Spain. This statement initially created an uproar of separatists filling the streets, celebrating with a sea of yellow and red flags.
However, this unlawful statement has consequently caused Madrid to implement Article 155 of the Spanish constitution, which ultimately allows the capital to impose direct rule on the region, the Catalan government to be removed, and new regional elections to be called. As well as being adjourned, the president of Catalonia, Charles Puigdemont, as well as some of his fellow members have been consequently faced with criminal charges, as per the Spanish government.
The current state of Catalonia as an autonomous region is now a pending dispute.