Westwood Hires New Math Teacher Ms. Maci Kaiser
Ms. Maci Kaiser has just began her first year of teaching after six years in college. She recently graduated from A&M and started here as a math teacher.
"I wanted to do physical therapy because I like exercising and I knew it would make a lot of money, but within the first year of studying, I knew it wasn't what I was passionate about," Ms. Kaiser said. "I was minoring in math already because I was passionate about it, and I couldn't imagine not taking another math class. I didn't care about my physical therapy classes and all I wanted to do was my math classes, so it was a clear sign that I was in the wrong place. So I changed my major and everything felt right."
Ms. Kaiser teaches on-level Algebra II and Precalculus, and she has a unique teaching style that she hopes to be able to use with her students.
"I really like discovery-based learning, so giving the students leading questions and letting them find the equation on their own," Ms. Kaiser said. "I also wish we could do more individual practice like stations and being interactive with peers."
All of the school's students and teachers are new to Ms. Kaiser, so she looks forward to getting to know them all.
"I feel more welcome here than I did subbing at other schools," Ms. Kaiser said. "The way the student and faculty treats you makes a big difference. Here, people get to know you and they care about you."
Ms. Kaiser went to a high school in East Texas also called Westwood whose colors were orange and white.
"Back then I did like orange, but then I got rid of all of it because I went to A&M and they have a big rivalry with UT," Ms. Kaiser said. "So before I started working here I didn't own a single orange thing, but since working here, I've bought three orange shirts for school spirit."
Ms. Kaiser hopes to help her students achieve in math at a highly competitive school.
"Here there are higher standards which is good because it is preparing you for the future," Ms. Kaiser said.
Ms. Kaiser has many hobbies outside of school. She enjoys church, exercising, and spending time with her friends and husband.
"I really like sports, so I plan to attend the games that my students are involved in," Ms. Kaiser said. "My favorite sport to watch is football, so I'm excited to check that out. When I was in high school, I played volleyball, so I want to check that out too."
After working very hard to get where she is today, Ms. Kaiser is very excited to be a teacher.
"I want my students to learn math and to love it but I also want to get to know them and be here for them," Ms. Kaiser said.
Leave a Comment
About the Contributor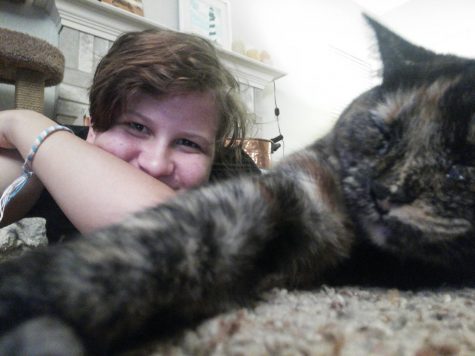 Ian Drerup, Video Editor
I'm the video editor and in charge of Humans of Westwood. This is my third year on staff and outside of student press I spend most of my time drawing....