The Best Pop Songs of the 2010s
In the early and mid-2010s, "Top 40" radio was upbeat and inescapable. You would have to be an industrial-strength hermit to not hear Thrift Shop, Uptown Funk, or even Gangnam Style. These were loud, splashy, and fun songs that had no purpose other than to put a smile on your face (although those willing to dive deeper into Gangnam Style would have found some rather interesting political commentary). But around 2016, the landscape of pop became fragmented and moodier. Artists like Drake and The Weeknd reached their peak of popularity and moodier tracks by the likes of The Chainsmokers and Twenty One Pilots started hitting the airwaves. You could point to a lot of possible causes for this. Lorde's Royals had caused a seismic shift in popular music lyricism, and of course, the election of Donald Trump put the country in a very divided state. But these songs were just as inescapable, and sunnier and goofier hits that would also spawn memes still appeared quite a lot. 
I associate the hits of the early 2010s with car rides to school and time spent in stores, but when I think of the music of 2015-2017, I think of awkward school dances and looking over the shoulders of fellow students scrolling through Musical.y and Vine. The landscape changed even more in 2018. This was the year that rap eclipsed pop. It wasn't a bad thing, just different. Increasingly, there is little difference between the two genres. Drake in particular straddles the line so much that he's basically all pop at this point. But I would say artists like Kendrick Lamar and Travis Scott are still rap, and as much as I appreciate their music, it won't be appearing on this list because I can't really consider it pop. Feel free to disagree, but I'd like to point out that it's my personal opinion and I define pop music very narrowly. 
Pop to me is essentially any upbeat music with a defined verse-chorus structure that has lyrics and is sung without overdriven guitars or any other "rock" elements. But let's not even touch the definition of rock music, an even more complicated can of worms that I still can't bring myself to open. Oh and one more thing, pop music is supposed to be popular. So while I liked plenty of songs that might fit the stylistic criteria in the 2010s, if they weren't being played on the radio, I'll have to rule them out. Then again, these distinctions are largely arbitrary and could also be completely ignored. After all, it's my list, and I picked what I thought were the ten best pop songs of the 2010s. 
10. Rolling in the Deep by Adele (2010)
Adele was only 21 when she recorded Rolling in the Deep, but when listening you could easily confuse her for a 73-year-old soul belter who's been through every imaginable heartbreak. It's honestly amazing that in 2010, Adele was as popular as she was when she most certainly didn't fit the pop star mold. Her songs weren't upbeat, she didn't have a chipper Katy Perry voice or looks, and her songs didn't feature guest verses from Snoop Dogg. Adele's runaway success sustained for much of the decade until its waning years, when she abruptly stopped making music. Let's hope she's hard at work making new music in the meantime.
9. Sunflower by Swae Lee and Post Malone (2018)
This soundtrack single from Spider-Man: Into the Spiderverse is a breezy and appropriately sunny song that mixes melancholy resignation with summery optimism. Although both the artists on the track are rappers by trade, they both adopt crooning vocals here that work surprisingly well. I'm not a fan of Post Malone's warbly affectations, but he works well here, although it's the beat and Swae Lee's melodic hook that drives the song into excellence. 
8. Pumped Up Kicks by Foster the People (2010)
It's difficult to talk about this song without discussing the elephant in the room, that being the controversial and much-discussed lyrics that adorn the song's whistle-centric beat. The lyrics seem to tell the story of a teenager with an unhealthy fixation on guns, which needless to say caused people to notice parallels between the lyrics and recent mass shootings that had occurred in the ensuing years. A lot of people didn't realize the song's real meaning until someone explained it to them, and I was no different. I remember humming this in gym class when another kid asked me if I knew what the lyrics meant. I shook my head and then they explained it, and needless to say, I saw the song in a whole new light after that. Mark Foster, the song's writer and main performer, has said that he regrets the song now, and I understand his reasoning. But I also think that without the lyrics, the song wouldn't have much staying power. It's a great hook and chorus but the edgy lyrics give the song an added intrigue that has kept people discussing it years later. The song makes me uncomfortable but I think that's the point. Foster coated his summery hooks with dark lyrics, and the song is given an added dimension because of this. 
7. Into You by Ariana Grande (2016)
Ariana Grande hasn't always had the songs to back up her incredible voice, but once in a while, she'll come out with a truly perfect song that matches her talent perfectly. This is, in my opinion, her best song, although she has several others that I really like. It's got a driving and catchy hook that won't leave your head, and unlike some of Ariana's later works, it's not too soft or pillowy, possessing a slight bite in its production that fits the lyrics and chorus like a glove. The pulsating synths augment a driving, insistent drumbeat that Ariana sings over with her powerful voice, which combines to create a perfect pop package. During the verses, she sings with a breathier inflection that gradually gets more intense as we get closer to the chorus. By the time it hits, she's singing in that full Ariana range that we all know and love, but her best moment is during the bridge, where her voice reaches dizzying heights that other artists wouldn't dream of attempting. Amazingly, this song only got as high as Number 13 on the Billboard Hot 100. A true injustice. 
6. Get Lucky by Daft Punk featuring Pharrell Williams and Nile Rodgers (2013)
Who can deny the sheer groovitude of Daft Punk? Whether they're making futuristic dancefloor fillers or throwback disco grooves, listening to these two robotic Frenchmen ensures a good time. Although they broke up earlier this year, their music will always be remembered, especially this song. While it's not their best, the catchiness solidifies its legacy as their biggest hit. Daft Punk worked with Pharrell Williams and Nile Rodgers to cook up a song that could have stepped out straight from 1977. Despite its vintage vibe, this song has an oddly timeless quality, and although it's eight years old (ancient in pop terms), it's still a radio staple. Good music never dies.
5. I Took A Pill In Ibiza by Mike Posner and Seeb (2015)
Proving that the saddest songs are often the ones that seem the most upbeat, this truly heartbreaking comeback single from Mike Posner features devastating lyrics set to a pounding club beat and tropical synths. At the time of the song's release, Posner was a largely forgotten pop singer who had success during the late 2000s and little else. But seemingly out of nowhere, a depressing acoustic song that he had written in 2015 was remixed by an EDM production duo and turned into a huge success in 2016, bringing Posner's name back into the limelight and providing him a much needed shot in the arm. 
The song's lyrics vividly describe the withering life of a has-been musician, as Posner walks through life emptily and without purpose, spending his wealth on "girls and shoes." Any other song would treat this as a good thing, but this was 2016. It was the year that America changed: the year that many lamented as the worst ever, the year we got our first dose of true national division, the year that changed many lives including mine, and the year that a depressing EDM club track about taking drugs to impress Avicii became one of the biggest hits of the year. Ultimately, Posner wasn't able to maintain the momentum that this song gave him, a bitterly ironic twist on the song's already deeply cynical lyrics. 
4. Rather Be by Clean Bandit ft. Jess Gylnne (2014)
One of my most vivid music memories is sitting in the car on the way home from school and hearing this song played over the radio. I didn't particularly like any of the Top 40 music at the time, but I distinctly remember hearing this song and thinking, 'this is actually a really good song'. Trust me, it's been very few times that I've thought that while listening to the radio. Many years later, I still love this song, as I'm sure everyone else who's heard it does. It has a lot of elements that don't sound compatible at first, like a violin riff, warbling synths, dance beats, and a diva-ish lead vocal, but somehow they coalesce into a simple but addicting masterpiece that hasn't aged a day. 
3. I Can't Feel My Face by The Weeknd (2015)
The Weeknd seemed like an artist destined for cult success and little mainstream attention when he arrived on the scene. But this squeaky-voiced and absurdly-haired Canadian who made dark and dirty R&B songs on the internet became inescapable in 2015 after the release of this song and its companion, the darker and more intense The Hills. From there, he's enjoyed near-constant popularity and success with his signature blend of dark lyricism and synth-driven disco-inspired beats. I like a lot of his songs but I think this was his greatest achievement in the 2010s. Like many of the songs on this list, it's deceptively dark behind its poppy sheen, as many have interpreted the lyrics to be about cocaine or another narcotic substance. It's not hard to tell why when you examine the lyrics, but one could easily ignore them in favor of the song's irresistible groove, which sounds like an unearthed Michael Jackson backing track, only better. It's no wonder The Weeknd has collaborated with Daft Punk given that their retro-meets-modern sensibilities are so similar. 
2. Call Me Maybe by Carly Rae Jepsen (2011)
This 2011 classic is quite possibly the catchiest song of all time. This might be a reason for some to dislike it, but you know what? I don't care. This song might be girly, or dated, or sugary, but it's one of the best-written songs ever, and it has such an infectious hook that I can't help but love it. But while I could go on for days about that monstrous hook, I can't put my finger on why it works so well. Countless other artists were releasing music that sounded just like this, but you don't see Cher Lloyd appearing on this list, so what makes this particular song special? Well, to be honest, I have no idea. It just works perfectly, something very few songs do. Not a note or line is misplaced, and the perfect instrumentation is the cherry on top. Synthesized strings and subtly overdriven guitars? Sign me up. Of course, the song wouldn't be nearly as good without Jepsen's flawless vocal performance, which guaranteed the song a place on any list of the best pop songs ever. Not even incessant overplay has diminished this song's greatness. 
1. Dancing On My Own by Robyn (2010)
From that opening synth pattern, direct and overbearingly intense, you know you're in for something different. The instrument's tone is almost sinister, as sharp as a razor and as fast as one too. This is followed by some simple and flat electronic drums playing a four-by-four pattern. Swedish singer Robyn then starts singing over these elements, and the first line we hear is "somebody said you got a new friend." The unusual accent on "friend" (listen to the recording to hear what I mean), might strike some as odd, but to me, it only makes the song better. As the lyrics continue, it's clear this isn't a normal pop song. The story revolves around the narrator, who sees her lover dancing in the club with another woman. Pretty simple in concept, but the execution is so specific in its detail and so oddly phrased that it becomes far more compelling than a traditionally written song would be.
Hyper-specific details like "there's a big black sky over my town" convey a sense of time and place that very few songs do, and anyone who's been out for a night drive or walk can instantly connect with what Robyn is singing about. And during the chorus, which is one of the most heartbreaking moments in all of music, Robyn seems to pronounce "I'm not the girl you're taking home" as "I'm not the guy you're taking home." Listen to the song and it's very hard not to hear, a mispronunciation so specific that it had to be intentional. That insistent synth-bass line is our constant, even as new elements like the nagging electronic cowbell and the atmospheric pads enter the mix. Even during the slow bridge section, it's still there, just quieter and more subdued. And upon re-listening to the song again, it's remarkable how few instruments are actually used, and how little melody they actually get to play. Most of the elements repeat the same riff for the song's full length, which is significantly longer than the average pop song length at nearly five minutes. I could talk about the song's production all day but that would be unfair to Robyn, without whom the song wouldn't work. Her crystal-clear voice and accent match the song's aura perfectly, giving it an incredibly timeless vibe. She sings the song's chorus in such a gut-wrenching manner that somehow never loses itself in histrionics, remaining subtle and classic the whole way through. No other singer could have pulled it off. 
This song wasn't really a hit. But it's influence has been far-reaching. Robyn gained countless fans off of this one perfect song's strength, so although it was barely played on the radio, its influence has proved much more far-reaching than a radio filler like DJ Snake's Turn Down for What. Sad, slow, and weepy cover versions of this song have taken the depressing lyrics of the original and set them over boring piano chords and hushed vocals, but they miss the point of the song. Robyn could be singing the lyrics over the very song she's hearing in the club while watching her boyfriend dance with another woman. The hard-edged dance-floor sound of the song is a feature, not a bug. 
In a way, the entire song can be seen as a microcosm of the 2010s as a whole, although it only came out in its first year. It's depressed but cautiously optimistic, retro-obsessed with a futuristic edge, and endlessly obsessed with others' private lives, a practice that only became more popular as the decade continued with the rise of social media. The 2010s were confusing but magical, just like this song.
Leave a Comment
About the Writer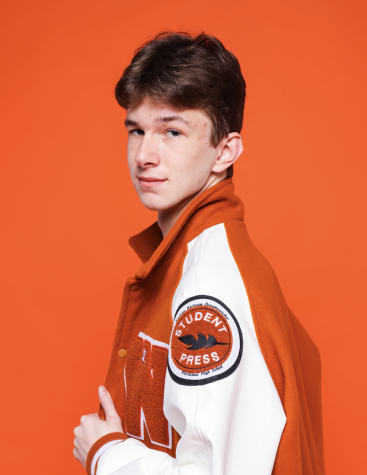 Oliver Barnfield, Video Editor
Class of 2023

I am currently Westwood Horizon's video editor, and also one of the hosts of Friendcast, our website's podcast video series. In addition...