20 Essential Power Pop Songs
Power pop is a genre of music that has always edged close to mainstream music, but has never really gotten there. This genre, combining catchy and beautiful harmonies with loud, crunchy guitars, seemed like it was going to reach the general public's ears several times, and many times it did. A handful of number one singles have sported this unique sound, but outside of those select few, the genre is mostly fawned over by fans of obscure music, with many bands acquiring cult followings. This genre had its commercial heyday in the 1970s, but experienced a renaissance in the '90s, with many alternative artists reviving the sound. There were even a few scattered power pop hits in the '80s that used the sound, albeit with a radio sheen. 
As the genre later morphed into the sounds of pop punk, many artists to this day still continue to carry the flame. Power pop has an enduring legacy that spans decades and a dedicated fan following, so let's dive deep into this genre and see what we can find among the power chords and harmonies. 
---
---
20. From the Word Go by Chris Stamey (1987)
On the more forlorn end of the power pop spectrum is this jangly tune by former dBs and Sneakers singer Chris Stamey. With gorgeous harmonies and layers upon layers of guitars, it's a great slice of melancholy rock. 
19. 867-5309 / Jenny by Tommy Tutone (1981)
Tight, controlled, and hiccupy, this song is arguably more famous for the amount of prank calls it was alleged to have caused than for its monstrously catchy chorus. Divorced from the light-hearted controversies that have consumed its legacy, it's still a good song, and certainly memorable. 
18. Pictures of Lily by The Who (1967)
Pete Townshend, The Who's guitarist and songwriter, coined the term "power pop" when describing this 1967 single. Indeed, it sounds like an embryonic version of Cheap Trick and The Raspberries, with tasty guitar lines and an unusual lyrical hook. While many power pop bands claimed The Beatles as their primary influence, the presence of The Who can be heard all over those later disciples, particularly the ones who favored a harder rock sound.
17. Go All the Way by The Raspberries (1972)
I remember listening to this song a lot when I got into power pop, and not because I liked it. I knew I was supposed to, but it never really clicked. Something about the muddy production and that weird structure turned me off. Now, however, I can safely say that I get it, although I don't love it quite yet. I still think the production is subpar and structurally, it's a mess, but now I can't get enough of that addictive chorus and those pounding, fuzzy riffs. 
It's a song that feels nostalgic even if you weren't alive when it was played on the radio, and the repetition of the hazy chorus without much care for a typical verse structure gives it an almost dream-like quality, like it's a pre-existing song that's been half-remembered and recreated in someone's mind. 
16. My Best Friend's Girl by The Cars (1978)
A synthesis of Queen-esque harmonies, '50s style guitar, Buddy Holly vocals and handclaps, a driving mid-tempo beat, and some fuzzy power chords doesn't sound appetizing, but listening to this song makes it all sound so effortless and pleasing. This isn't The Cars' best song, nor is it their most power pop-ish, but it deserves a spot here nonetheless. Very few bands could combine this many different elements to make music that was so well crafted and fun. 
15. I Wanna Be Your Boyfriend by The Rubinoos (1979)
This uptempo jam is most known for being involved in a lawsuit against Avril Lavigne, who was alleged to have nicked the melody for her 2007 hit Girlfriend. They sound very similar, but the Rubinoos original also took their chorus hook from Get Off of My Cloud by The Rolling Stones, and the title from The Ramones. The cycle never ends, especially in the genre of power pop, which took heavy influence from The Beatles, The Who, and The Byrds. Anyway, this song is awesome and insanely catchy. And Avril's song is actually pretty good, too. 
14. (What's So Funny 'Bout) Peace, Love and Understanding by Brinsley Schwarz (1974)
Written by pub rock maestro Nick Lowe and recorded initially with his band Brinsley Schwarz, this song is better known for its Elvis Costello cover. While that cover is excellent, the original is more power pop and as such, it gains a spot on this list. The wall of sweet, chiming guitars nearly overpower the vocals, but not enough to drown out the lyrics, which have a good message and are layered with plenty of reverb.
13. Tiny Spark by Brendan Benson (2002)
Anchored by a retro synth hook, this 2002 gem received most of its fame for being in Along Came Polly. Regardless of its affiliation to Ben Stiller comedy films, it has nonsensical lyrics, chugging fuzz guitars, and keening vocals.  What more could you ask for? 
12. Another Girl, Another Planet by The Only Ones (1978)
I'm a sucker for any song with palm-muted guitars, so naturally this song had to make the list. One could make the case that given the British roots of the band, this song is more pop punk than power pop, but those sweetly chiming guitars, the garage band organ, and the soaring solo make this an excellent example of British power pop. On my first listen, I found the lead singer's voice annoying, but slowly, the song grew on me and now I consider it a high point of this underappreciated genre. 
11. Black and White by The dBs (1981)
This wiry and quasi-punkish song is reminiscent of many bands, but it still sounds wonderfully original. The guitar and beat is similar in style to The Feelies and the early work of The Cure. In addition, the handclaps and synthesizer recall The Cars, and the vocals and janglier guitars are Big Star-esque. This irresistible mash-up of sounds is predictably excellent, packing so many hooks into a less than three minute run time that you're left wanting more by the time it ends. It never repeats the same instrumental element for too long, keeping the song incredibly fresh and evergreen with every new listen. This song is hugely underrated and effortlessly astounding.
10. Buddy Holly by Weezer (1994)
Weezer revived power pop with their hugely successful debut record, which was produced by power pop maestro Ric Ocasek. They dialed up the "power" aspect of the sound with this heavy riff-laden song, but it's grounded by Rivers Cuomo's nerdy lyrics and gawky voice. Most of the songs on the album could be on this list, but Buddy Holly is one of the most iconic, so it deserves a spot here. Definitely one of the most popular power pop songs, it has become Weezer's signature song even as they release progressively mediocre albums. 
9. Stacy's Mom by Fountains of Wayne (2003)
Fountains of Wayne undoubtedly took heavy inspiration from The Cars with this 2003 hit, with a guitar riff straight from My Best Friend's Girl and a chorus and synth similar to Just What I Needed.  The music video also pays frequent tribute to Ric Ocasek and company.  What most people remember about the song is its hilarious lyrics, which recount a tale of an adolescent mom-crush, rendered in memorable detail in the music video. Stacy's mom has got it going on, and so does this song, which is amazing. 
8. Starry Eyes by The Records (1978)
British band The Records seemed poised for big success, with this song hitting the Top 50 in 1979, but as with many of the bands detailed in this list, they fell short of their projected success. It's a shame, because this song is gorgeous and driving, filled to the brim with hook after hook. Power pop was always more of an American genre, but The Records are an excellent but rare example of a British export that was just as popular as their American counterparts. 
7. Shake Some Action by The Flamin Groovies (1976)
Cursed with one of the worst band names in music history, the lean and mean Flamin Groovies were initially unsuccessful, but now sport a dedicated fanbase. This song takes clear inspiration from The Byrds with its chiming guitar hooks, but the guitar solo is wild enough to edge it over into harder territories. R.E.M. was definitely taking notes. 
6. Feel by Big Star (1972)
One name looms large over any discussion of power pop, and that name is Big Star. They're the band that got me and countless others into this lovely genre, which is ironic because they were a commercial flop during their brief tenure as a band in the '70s. They were rediscovered by music nerds in the '80s and their fan base is now sizable, with many successful and popular bands and artists citing them as an influence. Although they only released three albums in the 1970s and one in the 2000s, that original run is almost unparalleled in its quality. 
Their first album, #1 Record, is also their most popular, although unfortunately, it didn't do nearly as well as the title prophesied. This is the opening track, and it's a great showcase for what makes the band great. Although Alex Chilton is often credited for the band's success, Chris Bell, his co-writer and guitarist on this album, was just as responsible for their unforgettable sound, with his shouty, Led Zeppelin-style vocals propelling the song into surprising directions. The catchy descending riff that opens the song is soon layered with mountains of heavy guitars and even a horn section, but these drop out for the haunting chorus, which showcases a desperation rarely found in this kind of song. 
5. American Girl by Tom Petty (1977)
This bright, upbeat, and jangly hit was Tom Petty's first dip into mainstream rock acceptance, and what a dip it was. It's still his best song in a catalog made of enduring classics.  The iconic opening with that chiming guitar and descending bass is instantly recognizable and may be his best musical moment. It's rivaled only by the funky breakdown that comes out of nowhere after the chorus. Although Petty is the credited star, the genius guitarist Mike Campbell steals the show with his effortless guitar lines that soar across the song's mix. Petty and Campbell never really returned to power pop again, and that's a shame, because they left behind this perfect song in their one dip into the genre.
4. September Gurls by Big Star (1974)
This isn't my favorite Big Star song, but it certainly fits the power pop mold the best. Those jangly guitars, the slightly fuzzy lead, and the high-pitched yearning vocals have made this one of the band's most prevailing songs. 
3. Couldn't I Just Tell You by Todd Rundgren (1972)
Todd Rundgren wasn't content with playing all the instruments on his breakthrough 1972 album Something/Anything?. He had to make each song an absolute masterpiece in every genre he could muster. While contemplative piano ballads are the most common style of the record, this perfect confection of hard and soft instrumentation is definitely the album's highlight. After an intro made up of stray studio banter, a beautiful acoustic guitar figure begins, backed with an insistent thump. Then, over-driven rock guitars enter, and Todd begins singing with an almost metal-like scream.  The sweetness of the opening returns on the transcendent chorus, and it's that push and pull between hard rock and sweet pop that marks the best of the genre. 
2. Just What I Needed by The Cars (1978)
This perfect song would also top my list of best new wave songs, rock songs, and The Cars songs. But the crunchy guitars and singalong chorus solidify this as a power pop song at its core, despite the new-wavy synthesizers. I love everything about this song, from its opening palm muted thrash to the random triangle heard at the end of the tune. It's a deceptively simple song upon first listen, but dig deeper and it has so many intricacies and weird touches. 
For starters, there's the weird lyrics. Singer Benjamin Orr's repetition of the word "time" in the song's third verse (which is the same as the first) is just one when considering the moment after the first verse where instead of the expected chorus, we get a synthesizer solo, and of course, the iconic time signature change that throws the song into a whole new level. These quirky touches are all part of a cohesive whole, and from the first moment I heard it, I knew I was in love. Although this is one of my favorite songs ever, it isn't quite power poppish enough to hit our true number one. Perhaps the ultimate example of the genre will have to take that spot.
1. I Want You To Want Me (LIVE) by Cheap Trick (1979)
This is, in my mind, the undisputed king of the genre. At least, the live version is. Pay no mind to the mundane studio version.  The recording from Budokan, backed with thousands of screaming Japanese fans, is the best way to listen to this perfect song. From lead singer Robin Zander's opening shout of "I want you to want … me" you're in for a blistering but utterly satisfying ride through the best aspects of pop and hard rock. The catchy melody is pure radio pop, with simplistic, but effective lyrics about love and longing.
Guitarist Rick Nielsen's blazing guitar shredding effectively carries the song into an anthem that pops from any speaker it plays on. It's worth noting that Cheap Trick was the purest power pop band to ever reach huge levels of popularity. The Cars evolved into new wave and most other stalwarts of the genre never transcended from obscurity, but Cheap Trick produced genuine power pop and achieved significant success making it.  Their sound, and this song, is insanely addictive; listen to it once and you can't stop. The sugar-rush chorus and shuffling drums drive it into a beautiful swirl of melody and lyrics. It's an incredible song and the best example of this evergreen genre.
View Comments (3)
About the Writer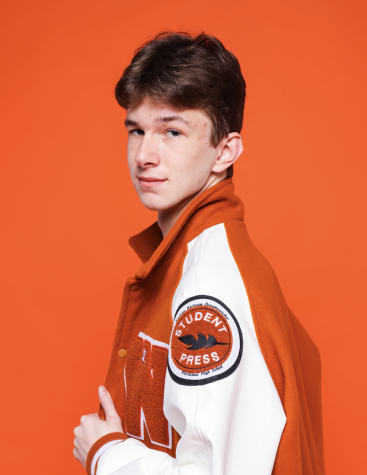 Oliver Barnfield, Video Editor
Class of 2023

I am currently Westwood Horizon's video editor, and also one of the hosts of Friendcast, our website's podcast video series. In addition...