25 Essential Sophisti-Pop Songs
Sophisti-pop was a popular genre in the mid to late 1980s that expertly mixed soul and jazz music with new wave textures like synthesizers. While the genre certainly had crossover hits, it was most popular in Britain, where the music was almost exclusively made. While the idea of the genre frankly, sounds rather unappealing, I find the genre cool and, well, sophisticated. It's fashionable, smooth, and intricate, with most of the songs being well-crafted and lightly funky. The best songs in the genre aren't pretentious or too smooth and boring, keeping just enough of that new wave edge to provide flavor and intrigue.  A cousin of soft rock, sophisti-pop is a lot more fashionable and synth-based, as well as being far more British. 
Bands like Simply Red, Sade, ABC, and Pet Shop Boys popularized this genre and kept the sound alive for quite some time, but unfortunately, it didn't last. What was once a cool and fun genre quickly turned into bland adult-contemporary music as the '80s transitioned to the '90s, with artists like Michael Bolton turning elements of the genre into truly awful music. Thankfully, the genre has been steadily making a comeback, with popular bands like The 1975 making tributes to this classy and smooth genre in recent years. It's not the most consistent genre ever, and it certainly has quite a few regrettable songs and bands, but overall, I find a lot of the songs fantastic and incredibly catchy. So let's dive into a world of turtle-necks, skinny ties, and perfume scents as we explore the 20 best songs of sophisti-pop.
---
---
25. Century's End by Donald Fagen
Donald Fagen is the only American purveyor of sophisti-pop I could find in all my searches through this genre. Fagen is best known for his tenure as lead singer and songwriter for Steely Dan, one of my all time favorite bands. His solo career leaned hard into '80s synths, abandoning the guitars of Steely Dan and often dispensing with the band's darker side. This funky song is without guitars as far as I can hear, and has urban-centered lyrics, befitting its context as a song composed for the 1987 film Bright Lights Big City, a story about a drug-addicted journalist in '80s New York that featured Fagen as its soundtrack composer.
24. No Ordinary Love by Sade
The electronic grooves of Sade's 1992 hit are reminiscent of trip hop, a popular brand of chilled electronic music that was briefly in-vogue. But Sade will always be sophisti-pop to me, thanks to her beautiful voice and the plush backing tracks that augmented it. I love the guitars in particular on this song, which have an oddly metal tinge to them at times. Chugging and at times soaring, they are an unusual texture for the band but they fit this song and provide an epic quality to it. 
23. Holding Back the Years by Simply Red
This slow-as-molasses number one hit is built around a lethargic electric piano figure and Mick Hucknall's weirdly high tenor voice. This song is incredibly cheesy, yes, but I can't help but appreciate it as a way-too-smooth '80s pop classic. I like it ironically. I promise. 
22. More Than This by Roxy Music
Led by the crooning Bryan Ferry, this slimmed lineup of Roxy Music recorded their swan song, the smooth-as-butter hit record Avalon. It was a far cry from the experimental new wave of their debut, sure, but it definitely sold more albums. With chiming guitars and sweeping synths, it would end up being one of the band's biggest hits. 
21. New Day For You by Basia
Built around a sashaying, slinking groove topped with poppy marimbas, this cool slice of jazzy dance-lounge was brought to life by Polish singer Basia. Although it's built around a repetitive rhythm, the instrumentation is varied enough to keep things interesting and fun. 
20. Shape of My Heart by Sting
No one will ever be able to listen to this song the same way again after the untimely passing of Juice WRLD. Proving that sophisti-pop still has a minor effect on modern popular music, the rapper sampled this song's memorable guitar riff on his hugely popular 2018 song Lucid Dreams. I was in between 7th and 8th grade when this song came out, and while I wasn't a fan of the song, I liked that guitar part and would only later learn of its origins. I always thought it was a clever usage of a somewhat forgotten and cheesy song. Whoever decided to sample an early '90s adult-contemporary Sting hit was very clever, as it provided the song with a great hook. While admittedly, Juice's music never really connected with me, I appreciated the honesty and emotion in his lyrics, which gave him a distinct edge over other similar rappers. I was dismayed to learn of his death, but I suppose I should be talking about Sting right now. Anyway, Shape of My Heart is a pretty good song, with interesting lyrics about a gambling addiction and typically slurred but effective delivery from Sting's golden throat.
19. Shout to the Top by The Style Council
Former punk Paul Weller took a left turn into soul-inspired music with the founding of The Style Council, and this is one of the duo's best known songs. Built around a peppy and bright synth riff and an upbeat rhythm, one can easily imagine this playing in a shopping montage from a forgotten '80s film.
18. True by Spandau Ballet
I don't really like this song very much, but on these lists I like to include songs that maybe aren't the best but perfectly capture the genre's vibe. Sailing by Christopher Cross on my soft rock ranking was an example of this, and True carries on that tradition. Though I dislike the corny lyrics and treacle nature of this song, it is an essential example of the genre due to its slow, slinky groove and smooth vocals, and that alone lands it on the list.
17. Slave To Love by Bryan Ferry
Ever wanted to feel like a posh bachelor cruising around '80s New York, going on dates with models and high society dames while taking good care of your perfectly minimalist high rise apartment? Just listen to Bryan Ferry and you're halfway there! Ferry, best known for his time in Roxy Music, carved out a nice solo career for himself making smooth slow jams like this. The best part is the excellently cheesy reverb-drenched lead guitar part. It's no wonder this song was a mainstay of bad '90s erotic thrillers.
16. Stay by The Blue Nile
Though the Blue Nile's resounding masterpiece is their incredible second album, Hats, their debut record is good too. This was clearly supposed to be their breakout hit, as they recorded a MTV-ready music video, and packed it with bright synths and the catchiest chorus of their career, but the success never came. With lyrics that, as usual for the band, discuss cities and relationships in an abstract and rain-soaked manner, and an unusually high tempo that burbles with excitement, it's a typically genius collection of pristine and beautiful sounds for this truly unique band. More on them later.
15. Little Lies by Fleetwood Mac
This '80s hit by '70s mainstay Fleetwood Mac is a great example of why they're an excellent band. The chorus is incredibly catchy, and it's sung and written by keyboardist Christine McVie, one of the band's three singers/songwriters. Don't fret though, Stevie Nicks and Lindsay Buckingham have prominently placed background vocals that echo Christine's lead vocals. Their incredibly distinct voices make my music nerd brain light up every time I hear them in this song, but besides that little easter egg, this is just an overall wonderful song. Not a guitar in sight, Fleetwood Mac went headlong into the '80s sound with this production, employing booming gated drums and a lush keyboard, which was a far cry from their dry '70s style. The one element that remained between eras was the flawless songwriting and the general smoothness,although their '70s period had more grit due to Buckingham's more prominent guitar playing.
14. Driving by Everything But The Girl
Although best known for their club hit Missing, Everything But The Girl began as a smooth, sophisti-pop duo that produced melancholic gems like Driving. Tracy Thorn lends her signature yearning voice to this immaculate slab of almost Sade-like perfection, with her bandmate and future husband Ben Wyatt providing understated backing vocals. 
13. Favourite Shirts (Boy Meets Girl) by Haircut 100
This energetic cappuccino-funk classic may seem too energetic to be sophisti-pop, but the peppy horns give it away. Lead singer Nick Heyward's voice is also a dead giveaway, possessing the posh croon of Talk Talk's Mark Hollis if he sang about young love instead of Chameleon Days and the Salem Witch Trials, both of which crop up as subjects in Talk Talk tunes. Heyward even engages into a brief rap at one point.
12. Being Boring by Pet Shop Boys
The Pet Shop Boys, while certainly sophisticated, centered their songs on club beats a lot, which is a choice that disqualifies some of their biggest hits. But this nearly seven-minute song is their purest sophisti-pop moment, awash in lush keyboards, harp glissandos, and a bright synth riff. Neil Tennant's memorably monotone voice certainly fits the title well, as he sounds as bored as ever, but the song is anything but. From the cinematic intro to the catchy chorus, it manages to keep things interesting through its lengthy running time. 
11. When Love Breaks Down by Prefab Sprout
Prefab Sprout's excellent 1985 record Steve McQueen was supported by this great piece of smooth sophisti-pop, possessing an excellent buildup from a slow, glassy keyboard infused opening to a funky guitar-centric chorus that somehow match perfectly with one another. Prefab Sprout are a big deal in the UK but received almost no recognition in the US, which is a real shame.
10. Steppin' Out by Joe Jackson
This uptempo song by new wave artist Joe Jackson is a far cry from the Elvis Costello-adjacent rock of his earlier hits like Look Sharp, but the sharp drum machines and bright piano of sophisti-pop fit him well. With an optimistic lyric about exploring life in New York, the song is perfect for a late night drive in the city.
9. Dance Hall Days by Wang Chung
Wang Chung are best known for their eternal '80s pop funk dance classic Everybody Have Fun Tonight, and while that is a good song, it's not sophisti-pop and is nowhere as good as some of Wang Chung's other songs. This, their first hit, is built around a shuffling beat and big, jangly guitar strums. Add in atmospheric keyboards, catchy horns, and a poncing lead vocal line, and you have a recipe for perfect sophisti-pop. The chorus is inescapably catchy and unique, and while the nostalgic lyrics don't make a lot of sense,  they get the job done. Wang Chung are too often reduced to a punchline due to their big hit and goofy name, but they're a lot better than people give them credit for. Listen to this song or their best song, To Live And Die In LA, for a glimpse into the more artful side of this underrated band. 
8. Everybody Wants To Rule The World by Tears for Fears
Some may disagree with this song's placement on a sophisti-pop list, but it's just urbane enough to be considered in the genre. While I will concede that it's not a particularly great example of the genre, it's one of my favorite songs of all time and I want to talk about it. There's that unforgettable melody and the almost country-ish guitar lick. It's followed by three different guitar solos, each playing in a different style (the first, a complicated rhythm part, the second a tasteful bendy part that lasts all too briefly, and the last a blistering and distorted show-off that edges the song over into almost rock territory.) That's not even getting into the lyrics, which are vague but also intriguing. Somehow, they capture the consumerism and greed of the Cold War perfectly, offering an insightful look at American politics despite Tears For Fears being British. The song manages to be haunting, beautiful, exciting and most of all, awesome, all at the same time, which is no small feat. 
7. Secret by OMD
Orchestral Maneuvers In the Dark produced some of the best synth-pop music ever, and in my opinion, this song is their finest hour and also their most sophisticated. The smooth, pillowy synths, the suave vocals and steady drum beat all mark this as a sophisti-pop experience, although it leans more towards the pop end than the 'sophisti' side. The catchy synth-horn lick and the female voice singing the hook are all genius touches that make the song as a whole a beautiful package of pop perfection. 
6. Shattered Dreams by Johnny Hates Jazz
Shattered Dreams is one of the best examples of sophisti-pop. This mid-tempo classic has an insanely catchy hook that just refuses to leave your head, anchored by an insistent synth riff and some flavorful conga playing in the outro. Peaking at number two on the American pop charts, the song was aided in its climb by a black-and-white video directed by David Fincher, future director of Zodiac and Fight Club. It's a compelling song that hits perfectly; not too intense but not too smooth to become lazy and boring. It features some of the best written hooks of the '80s.
5. Getting Away With It by Electronic
Getting Away With It is one of my favorite songs ever, for obvious reasons. First of all, the lineup that worked on this song is unreal. Featuring Johnny Marr, the guitarist from The Smiths, both Pet Shop Boys on lyrics and bass, ABC drummer David Palmer providing the programmed beat, and Bernard Sumner of New Order singing lead, all of these incredibly talented performers combine their skills to create a perfect pop song. Bernard, while a great singer and creative lyricist, often has trouble writing compelling verses that make sense. With Neil Tennant co-writing with him, the lyrics become an acerbic diss at Marr's former bandmate Morrisey. Marr's guitar solo, one of his rarest, is great and played on a classical guitar, an unusual choice for pop music. Ending things off is an isolated orchestra playing a beautiful short melody, forming the cherry on top.
4. Headlights on the Parade by The Blue Nile
The Blue Nile aren't one of the best-known sophisti-pop acts, but they certainly embodied the genre well. While their music is indescribable in many ways and  hardly slots into a comfortable genre, I've listened to their second album Hats so many times that it has stopped becoming music at this point. I have for a while, considered it my favorite album but I don't really talk about them that much to anyone, as to me, their music is like a private little secret, a hidden gem that only I can see. It's tough picking just one of their songs, but this one probably exemplifies the genre best. It's not my favorite song by them, but it comes close and was the first thing I ever heard by the Scottish trio. 
The lyrics, as with most of The Blue Nile's songs, are urban in nature, mixing evocative descriptions of city light and rain  with emotional outpourings about relationships. The actual lyrics don't seem too complicated when reading them without context, as it's all about Paul Buchanan's voice, dripping with emotion and melancholy. His slightly rough timbre plays perfectly against the instrumentation, which is lush and cinematic. This particular song boasts a glimmering piano lick, burbling synth-bass, tight sequenced synths, and dramatic strings. It soars into the stratosphere when accompanied by Buchanan's voice, reaching highs that very few other songs can even reach.  
3. The Look of Love, Part I by ABC
Cinematic, lush, danceable, funny and insanely catchy, what doesn't this song have going for it? The Look of Love is just a perfect song through and through, with a magnificent string section, funky slap bass mixed with a squelching synth counterpart, disco guitars, and most importantly for the purposes of our list, a very sophisticated horn line. But my favorite part of this song isn't its instrumentation, as great as it may be. I love Martin Fry's hilarious lyrics and delivery most of all. The spoken word section where he says, very dramatically, "and though my friends just might ask me, they say Martin maybe one day you'll find true love. I say maybe… there may be a solution to the one thing, you can find" followed by an impassioned rendition of the chorus, is so memorable and hilarious. 
The song as a whole is just so fun to listen to, with its many memorable little touches and hilarious lines. Although I've only recently discovered it in the past week, I've listened to it something like six times already. I find myself singing the chorus and spoken word section to myself constantly without realizing it, and anytime I hear it, my day improves just a little bit more. The only reason it's not higher is that it's not quite smooth enough to be 100% sophisticated. 
2. It's My Life by Talk Talk
Talk Talk are one of the best and most well-known sophisti-pop groups, although it's remarkable how short their tenure as purveyors of the genre was. Only their second album, also called It's My Life, could be counted as sophisti-pop, and while the two albums that bookended it have elements of the sound, The Party's Over has a more synth-pop feeling and Colour of Spring has elements of soul and experimental music. After Colour, the band would dive headlong into sound experiments with their last two albums. What's interesting is elements of this strange sound can be heard on It's My Life, especially during the instrumental bridge, which uses a mournful horn that wouldn't be out of place on the dark and meditative songs on Spirit of Eden or Laughing Stock. This was Talk Talk's biggest hit, and for good reason. It's fantastic, and leagues better than Gwen Stefani's admittedly decent cover of it, which has somewhat eclipsed the original in popularity. 
Mark Hollis' distinctive croon echoes all over the song's exotic wash of synths and guitars, which memorably include some seagull noises that accent the two-note synth riff (a riff that, interestingly, bares a resemblance to Everybody Wants To Rule the World's synth hook.) There's a subtle acoustic guitar that plays throughout as well, and the memorable bass line is the underrated anchor of the whole track. Talk Talk made music that was simultaneously lush and minimalistic, and this song is one of their lushest. The bed of instruments is just poppy and pristine enough to be a radio hit but has just enough odd touches that it still sounds somewhat like the same band that made Spirit of Eden and Laughing Stock, their twin masterpieces that are made up of spare, experimental song suites mixed in with clamorous noise and feedback, only occasionally joining  into a recognizable chorus. With It's My Life they were almost there, but were still retaining enough pop and sophistication to land them firmly into sophisti-pop territory. 
1. Smooth Operator by Sade
Could anything else have been number one? Sade represented the pinnacle of sophistication in music, from sound to image, with the jet-setting lyrics and velvety jazz arrangements being just as important as the stunning album covers. The band and singer displayed their presence with this masterpiece, being the first song from their first album. Luxuriously smooth saxophones, steely electric piano, funky bass and Sade Adu's classic voice, as cool and clean as a glass of cold water, all solidify the song's place on this list.The lyrics center around a heartless playboy, portraying him with fascinating detail and vivid descriptions, so rich in imagery that it was surely based on a real person. 
Although the lyrics are clearly describing one individual, phrases like "smooth operator" could easily describe Sade, especially given the smooth nature of the music. Too often, radio edits of the song skim over some of the song's best aspects, such as the spoken-word opening which is complete with some playful electric piano accents to the phrases, and the riotous sax break, allowing the little-known other members of Sade a chance in the spotlight. Too often, songs with heavy influence from smooth jazz fall into elevator music territory, but Sade was too smart to be lumped in that pile. Her voice alone takes any song to another level, and the intricate arrangements and fascinating lyrics provide just another layer of sophisticated cool. 
Predictably, it was a smash hit, perhaps the first pure sophisti-pop song to cross over into America, although the genre would never truly hit the same way it did in England. Sade's music has stood the test of time, because at its core, it is essentially timeless. Artists like Drake and Kanye West have cited Sade as one of their biggest influences, with Drake even sampling a song that Sade popularized on Hotline Bling. They transcended sophisti-pop and pop music in general, remaining timeless and almost universally beloved by music fans everywhere, even those who would never otherwise listen to music of this kind. Sade are pure sophisti-pop but also pure musical gold.
Leave a Comment
About the Writer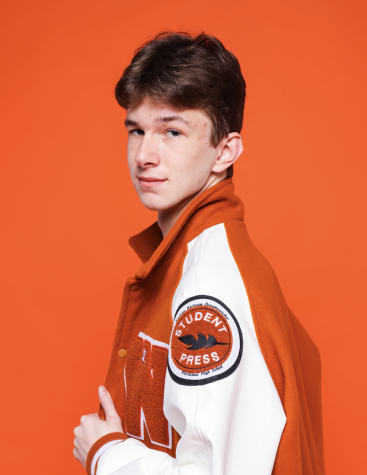 Oliver Barnfield, Video Editor
Class of 2023

I am currently Westwood Horizon's video editor, and also one of the hosts of Friendcast, our website's podcast video series. In addition...