'The Little Mermaid' Captivates Generations Once Again
In late May, the beautifully reimagined revamp of The Little Mermaid was released, and in the hands of Halle Bailey, it most certainly did not disappoint. 
Directed by Rob Marshall, who is known for many other masterpieces such as Mary Poppins Returns, Pirates of the Caribbean: On Stranger Tides, Into the Woods, and Annie, the film was expected to be nothing short of a masterpiece. The story of The Little Mermaid follows the life of a rebellious mermaid teenager, Ariel, one of King Triton's daughters. In spite of her father's prohibition, she decides to visit the surface, fascinated by humans and land life. While visiting land, Ariel falls in love with a human prince, and to find him, she negotiates with a dangerous sea witch, Ursula.
Amazingly, Marshall keeps the classic elements of The Little Mermaid while still bringing his own creative spin to the film. Throughout the movie, the audience is consumed by breathtaking visuals, lively colors, and a captivating soundtrack. But he couldn't have done it without Lin-Manuel Miranda, Marc Platt, John DeLuca, and many others who all added their own twist to the remake. With so many creative minds on the job, this enchanting story has become so much more than can be epitomized in just a few short words. The heartwarming tale of such a lovable mermaid has survived generations, and with Marshall's new take on this classic, we fall in love with our favorite mermaid all over again. Taking in all the emotions, and cheering on our favorite characters, it is safe to say that the new Little Mermaid was a success. 
There are a few changes to the movie that make it unique. First off, the contrast between the original in 1989 and the remake is astounding when it comes to diversity. Ariel is played by Black actress Halle Bailey, and each of her sisters belongs to a different ethnic group. Assuming the role of Ariel, Bailey breaks barriers and sets a new standard for inclusivity. When it was announced that Bailey was cast as Ariel, members of the public were ecstatic, particularly young girls of color. For them, seeing someone that was a reflection of themselves in such an iconic role was truly inspiring.
A notable change is the absence of René Auberjonois' song "Les Poissons," one of the silliest and most eccentric musical sequences in the 1989 film. According to Marshall in an interview, he and his team decided to remove that particular song from the movie since they felt it wouldn't work in this genre. Despite this, they were able to compensate for it by creating a movie that was still enjoyable to watch.
Bailey's performance as Ariel was nothing short of exceptional. While adding modern touches to the story, her presence throughout the movie was still immensely powerful and nostalgic. Throughout the film, Bailey's voice delivers some of the most well-known Disney songs we all know and love, including "Part of Your World," where Ariel expresses her desire to become part of the human world.
Supporting cast members delivered superb performances that wowed audiences worldwide. Javier Bardem's depiction of King Triton was majestic and regal. With his portrayal of Triton, Bardem commanded the emotions of many, as he tried to do what he thought was best for Ariel until he discovered what she needed most. Melissa McCarthy portrays Ursula astoundingly. With her ability to make exceptional points when striking a deal, Ursula continues to be malicious, intimidating, and fierce. The dashing Prince Eric was presented flawlessly by Jonah Hauer-King. Prince Eric continues to be the heroic, romantic, dreamy, and selfless prince we all know and love.
With a few minor tweaks, the soundtrack mostly stayed true to the original film. Composer Alan Menken, who worked on the original Little Mermaid, returned to adapt scores and songs alongside Lin-Manuel Miranda, famously known for writing the Broadway musical, Hamilton. A new addition to the soundtrack, "For the First Time," narrates Ariel's experiences from the moment she steps onto land. It follows her experience doing things for the first time, such as putting on shoes or a corset. When she realizes all the challenges she must overcome, her dream of being on land suddenly becomes daunting. Overall, it is safe to say that the soundtrack was phenomenal. 
With the reproduction of The Little Mermaid, people can once again relive Ariel's story and travel under the sea. This enchanting and magical journey has rekindled our love for The Little Mermaid and reminded us why we fell in love with the story in the first place. Those who grew up enchanted and fascinated by Ariel's world are sure to be overcome with nostalgia. In recreating the classic tale of The Little Mermaid, Marshall engulfed everyone in emotion and hope. A must-see cinematic masterpiece that is sure to leave you speechless, this classic has stood the test of time and will continue to warm people's hearts in the future.
What Little Mermaid Character are You?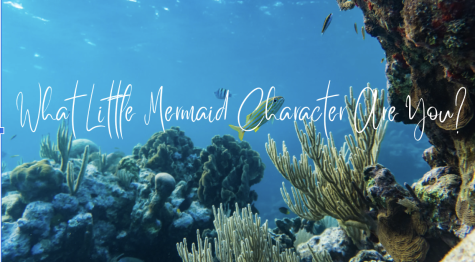 Loading...
There was an error. Please try again.