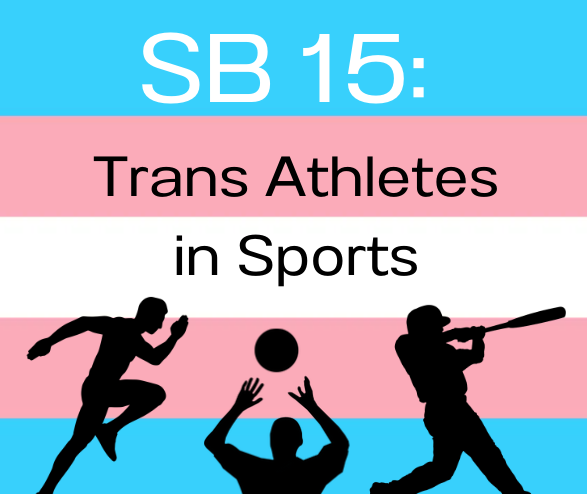 A few months ago, the Texas Legislature passed Senate Bill 15 (SB 15), a bill that aims to restrict transgender athlete competition in sports to the athlete's assigned gender at birth. This bill will go into effect on Sept. 1.
68.5% of Westwood respondents strongly or somewhat disagree with transgender athletes participating in sports that don't align with their birth gender. According to a national snapshot poll ran by the Global Sport Institute in 2021, approximately 40% of respondents somewhat or strongly disagreed.
"This bill makes sense to me in a straightforward, scientific, and biological way," an anonymous student said, "but this is only something I think makes sense with sports. I don't think it should be something that discriminates against gender, and should just be treated as the team someone should be on based on biological physique.
Currently, trans women athletes who want to compete at the elite level are required to have one year of testosterone suppression. A research paper published in the British Journal of Sports Medicine states that one year may be too short to ensure fairness.
"I think it is unfair for biological males who say they are women to compete with biological females," Richard Vasquez '27 said. "You have men's sports and women's sports for a reason. Biological men generally have more testosterone, more muscle mass, and denser bones, all of which cause them to generally be much stronger and faster than biological females. It'd be unfair to have a man identify as a woman in order to compete against those they know are most likely weaker. I believe [SB 15] is a just bill. It keeps everything fair although some people may be upset."
Transgender women competition in female sports seems to be the most argued topic, as many students cite "biological advantage" as a reason why it shouldn't be allowed. However, some respondents said that transgender men's competition in male sports should be allowed because of a lack of "biological advantage".
"I feel if a woman could compete at a higher level in a men's sport, that'd be fine," Jacob Klein '24 said, "but it wouldn't be fair for one group to be banned and the other not."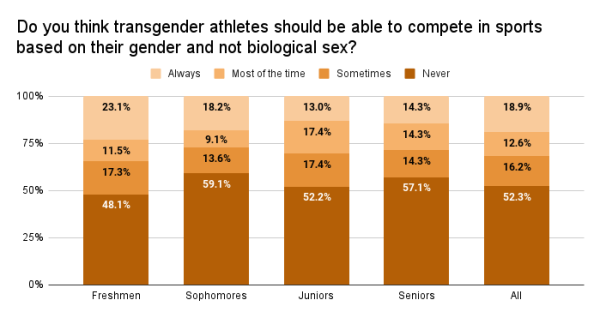 28% of respondents in the national poll strongly or somewhat agree with transgender competition in the sport of the gender they identify as. In the Westwood poll, 31.5% of Westwood respondents said that they strongly or somewhat agree with the previous statement.
"Any 'biological advantage/disadvantage' that transgender athletes may have are no different than the advantages and disadvantages between athletes of the same sex," Syd True '26 said. "Those who are taller have a higher advantage in basketball, no? Even within a group of cisgender athletes, the playing field isn't completely equal. It's idiotic and transphobic for people to try to exclude transgender athletes from competing in sports of their gender."
SB 15 could have a large impact on many athletes. The Human Rights Campaign estimates that 2-5% of athletes fall outside of traditional binary gender norms.
"Transgender [athletes] will [sit out], and some who might have been in sports [already] will decide to not [participate], and some will do sports anyway, and feel bad every time they do," Dorothy Douglas '27 said.
But many Westwood respondents do not lean heavily on one side versus another. 28.8% of respondents stated that they only somewhat agreed or disagreed with transgender athletes participating in sports that align with their gender.
"Most transgender athletes undergo hormone therapy which innately alters things such as muscle mass and hormone levels in the body over time," Katelyn Rowe '24 said. "With that said, I think there should be restrictions depending on how far a female athlete is into her transition, altering her physiology to be more like that of a female to prevent a trans athlete from potentially refraining from the use of hormone therapy for the sole purpose of maintaining an advantage in higher level sports."