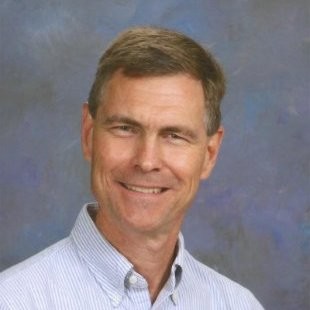 Mini M&M figures and orange longhorns decorate an otherwise sterile classroom, bolstering a highly personalized atmosphere. 
Mr. Ralph Rogers, Advanced Chemistry and International Barriculate (IB) Physics teacher is welcomed by Westwood after teaching for 10 years in Corpus Christi.
"I started looking for schools in the Austin area because [my wife and I] wanted to move to Austin," Mr. Rogers said. "I was particularly interested in schools around here. I had a list of them and I contacted them, and I got back really positive things from Westwood."
Among the reasons Mr. Rogers chose to pursue teaching is because of his upbringing.
"My grandfather, my grandmother, and my mother [were teachers]," Mr. Rogers said. "This gave me an opportunity to do something different from what I've been doing and teaching was it."
Some of Mr. Rogers' fond high school memories include playing trombone in the band, the subject his mother taught.
"One of my greatest memories [in high school] was going to football games, competitions, and just enjoying playing," Mr. Rogers said.
Mr. Rogers' favorite class in high school had a teaching style he aims to emulate in his classes this year: one that encouraged interactive and engaging learning.
"I had an oceanography class my senior year. The teacher basically said, 'Here's the material, learn it, go do hands-on,'" Mr. Rogers said. "The freedom of that course was really incredible."
Mr. Rogers enjoyed building relationships with his high school teachers and learning from them, which influenced his decision to teach high school.
"I wanted to teach at a higher level in science to get students interested and able to go on to higher-tech things in college and careers. Teaching at a younger age wouldn't have the same impact," Mr. Rogers said.
Part of the appeal of teaching at Westwood was its IB program. Mr. Rogers, having previously taught IB science in Corpus Christi, aims to encourage his IB students to succeed. 
"I want all of my students in IB to make sevens on their exam at the end of the year," Mr. Rogers said.
In his free time, Mr. Rogers enjoys swimming and sailing, reminiscent of his days when he worked for the National Oceanic and Atmospheric Administration (NOAA), where he spent months at sea traveling the world before he decided to pursue teaching. 
"I like to hike. Get outdoors when it's not 106 [degrees]," Mr. Rogers said. "I like doing a lot of projects around the house, [like] home improvement. I just moved here so I'm very busy right now doing exactly that."
As Mr. Rogers enters his eleventh year of teaching, he's excited for the opportunities ahead.
"It's my first year here so  I really want to become a part of the school, the culture, and the people to set a foundation for the years to come," Mr. Rogers said.