National Honor Society Inducts New Members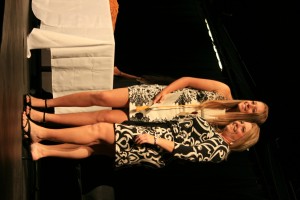 National Honor Society (NHS) inductees waited patiently to be called up to the stage to be fully inducted into the prestigious club on Nov. 5.
NHS is a service club that helps out the community through volunteering. The organization picks students who show great leadership and are involved in multiple extracurricular activities.
"On the NHS application I had to fill out the activities I participate in, including volunteer opportunities, and then I had to get signatures for each activity justifying I was involved in them," Nailah Roberts '17 said.
To get into the club, you must have a GPA of 4.0 or higher on the 5.0 scale. You are also required to send in an application providing past involvement in the community and school activities.
"As I was going to the stage I thought that I was going to fall and embarrass myself," Fidelina Zarat '17 said. "Plus my dad was teasing me the whole way up to the stage."
Each inductee had one parent accompany them to the stage while other family members enjoyed the ceremony from their seats. The smiles on the parents' faces really showed how proud they were of their sons and daughters.  
"I was part of NJHS in middle school so I wanted to be part of the high school one as well," Zarat said. "It is an honor and an accomplishment. I look forward to helping out my community with community service work and making a difference."