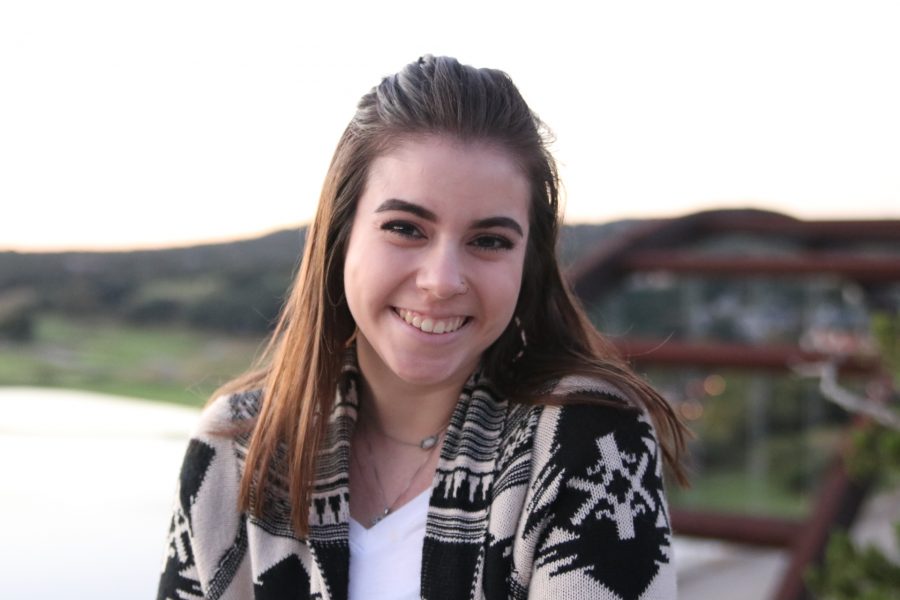 I enjoy writing about sports and taking photos.
My talents include binge watching Netflix, listening to unnecessarily loud music, staying up all night watching movies that I usually end up falling asleep during, spending time with my large Italian family, writing stories, and taking photos.
I have five brothers, four dogs, and a cat. I met my best friend the day I was born and I honestly have no idea where I would be without her in my life. I get my inspiration from nature, my friends, and the person I am photographing to create something new and unique
every time.
Lindsey Thomas, Men's Sports Editor
May 02, 2018

Sexual Assault Awareness Month: Open Letters

(Story)

Mar 22, 2018

Varsity Girls' Soccer Takes Down Pflugerville Panthers 1-0

(Media)

Feb 27, 2018

Track and Field Starts Season Strong with Titles at Lobo Relays

(Media)

Feb 24, 2018

Varsity Boys' Basketball Falls to Spring Dekaney in Second Round Playoffs 70-52

(Story)

Feb 21, 2018

Varsity Boys' Basketball Advances to Second Round Playoffs Defeating Bulldogs 63-55

(Story/Media)

Feb 15, 2018

Varsity Boys' Basketball Conquers Raiders 68-61 Advancing to Playoffs

(Story/Media)

Feb 07, 2018

Varsity Boys' Basketball Slays the Dragons 46-41

(Story/Media)

Feb 04, 2018

GALLERY: JV Orange Boys' Soccer Over Comes Hendrickson 1-0

(Story)

Feb 03, 2018

JV White Boys' Soccer Defeats the Hawks 5-1 in First District Game

(Media)

Jan 31, 2018

Varsity Boys' Basketball Falls Short to Mavericks in 2OT 55-51

(Media)

Jan 29, 2018

GALLERY: Varsity Boys' Basketball Falls to Hendrickson 63-56

(Story/Media)

Jan 06, 2018

Varsity Boys' Basketball Vanquishes Mavericks 60-47

(Story/Media)

Jan 02, 2018

Varsity Boys' Basketball Falls Short to Hendrickson 67-55

(Media)

Dec 12, 2017

Varsity Boys' Basketball Wins in Buzzer Beater over Leander Lions 42-40

(Story/Media)

Dec 05, 2017

Varsity Boys' Basketball Conquers the Hays Rebels 59-49

(Media)

Nov 18, 2017

Varsity Football Suffers Loss in Round 1 Playoffs Against the Rattlers

(Media)

Nov 11, 2017

Varsity Football Falls Behind the Raiders 49-3

(Story/Media)

Oct 21, 2017

Varsity Football Falls to the Tigers 56-28

(Story/Media)

Oct 14, 2017

Varsity Football Conquers Mavericks in Sister Rivalry 62-27

(Media)

Oct 08, 2017

Varsity Football Falls to the Hawks 51-14

(Story)

Oct 01, 2017

Boys' Cross Country Falls Short at Marble Falls Meet

(Story)

Sep 30, 2017

OPINION: New Meanings for Taking a Knee

(Story)

Sep 16, 2017

Men's Cross Country Sweeps Jarrell Meet

(Story/Media)

Sep 15, 2017

Varsity Football Trounces Leander Lions

(Story/Media)

Sep 02, 2017

Varsity Volleyball Falls to Chaps 1-3

(Media)

Sep 01, 2017

Varsity Football Conquers Lehman 63-13 Second Year in a Row

(Story/Media)

Aug 30, 2017

GALLERY: Warriors Prepare for Season with Scrimmage Against Georgetown

(Media)

May 24, 2017
May 18, 2017

Warriors Show Off Spring Training at Spring Game

(Story)

Apr 27, 2017

Football Plays First Scrimmage of Spring Season

(Story/Media)

Feb 08, 2017

GALLERY: Varsity Boys' Basketball Falls to Round Rock 51-56

(Story/Media)

Feb 08, 2017

GALLERY: JV Boys' Basketball Slips Past Round Rock 48-46

(Story/Media)

Feb 06, 2017

JV Boys' Basketball Dominate Over Stony Point

(Media)

Feb 04, 2017

GALLERY: Varsity Boys' Basketball Wins Over Stony Point 61-55

(Story/Media)

Feb 01, 2017

Athletes Further Their Sports Careers

(Media)

Feb 01, 2017

GALLERY: Varsity Boys' Basketball Falls to McNeil 49-60

(Story/Media)

Feb 01, 2017

JV Boys' Basketball Makes a Comeback Against McNeil

(Media)

Jan 28, 2017

GALLERY: JV Boys' Basketball Falls to the Hendrickson Hawks

(Story/Media)

Jan 28, 2017

GALLERY: Varsity Boys' Basketball Falls Short Against Hendrickson

(Story/Media)

Jan 25, 2017

JV Boys' Basketball Suffers Against Lake Travis

(Media)

Jan 21, 2017

GALLERY: Varsity Boys' Basketball Falls to Cedar Ridge 39-53

(Story/Media)

Jan 16, 2017

Varsity Boys' Basketball Conquers the RR Dragons 62-37

(Story/Media)

Jan 16, 2017

JV Boys' Basketball Defeats RR Dragons in 3OT

(Story/Media)

Nov 22, 2016

JV Boys' Basketball Triumphs Over Georgetown 42-34

(Media)

Nov 22, 2016

GALLERY: Varsity Boys' Basketball Falls to Georgetown 41-49

(Story)

Nov 13, 2016

National Adoption Month: Adopt a Pet From Your Local Shelter

(Story/Media)

Nov 05, 2016

Varsity Football Falls to the Cedar Ridge Raiders 6-49

(Story/Media)

Oct 29, 2016

Varsity Football Vanquishes the Pflugerville Panthers 35-24

(Story/Media)

Oct 22, 2016

Warriors Lose to Dragons 6-65

(Story/Media)

Oct 21, 2016

GALLERY: Organizations 'Glo Up' at Blacklight Pep Rally

(Media)

Oct 15, 2016

Warriors Fall to Stony Point Tigers 14-38

(Media)

Oct 08, 2016

Warriors Fall to McNeil Mavericks in Overtime 24-27

(Story/Media)

Oct 02, 2016

Varsity Football Wins First District Home Game 35-34

(Media)

Sep 18, 2016

Varsity Football's First Shutout Since 2010

(Story/Media)

Sep 10, 2016

Warriors Fall to Leander Lions 24-28

(Story/Media)

Sep 03, 2016

Varsity Football Wins First Home Game 52-38

(Media)

Sep 03, 2016

Warriors Show Spirit at First Pep Rally of The Year

(Media)

Aug 28, 2016

Warriors Defeat Lehman 42-14 in Football Season Opener

(Story/Media)

Jun 21, 2016

Warriors Defeat Marble Falls and Lago Vista in 7v7 Tournament

(Story)

Jun 15, 2016

Warriors Win Two of Three Games in 7 on 7 Tournament

(Story)

Jun 11, 2016

Class of 2016 Graduates

(Story)

May 21, 2016

Warriors Show off Results of Training at Spring Game

(Story/Media)

May 17, 2016

Caps Off to Seniors

(Story)

Apr 27, 2016

Girls' Lacrosse Takes District Championship

(Media)

Apr 27, 2016

OPINION: #YesAllWomen Experience Systematic Sexism

(Story)

Apr 25, 2016

Sophomore Discovers His Love for Baseball

(Story)

Apr 20, 2016

Students Dance the Night Away at Prom

(Media)

Apr 12, 2016

Lady Warriors Soccer Advances to Playoffs, Suffers Loss to Rockwell

(Media)

Apr 12, 2016

JV Orange Baseball Defeats Stony Point Tigers

(Story/Media)

Mar 10, 2016

Anderson Trojans Defeat Warriors Baseball 7-1

(Story)

Feb 18, 2016

SunDancers and Warrior Pride Compete at Westwood Dance Classic

(Media)

Feb 08, 2016

Update on Boys' Varsity Soccer

(Media)

Feb 01, 2016

Varsity Boys' Basketball Defeats Rouse Raiders

(Media)

Jan 27, 2016

Round Rock Dragons Defeat JV Boys 39-38

(Media)

Jan 26, 2016

Varsity Boys' Basketball Wins Against Round Rock Dragons

(Media)

Jan 12, 2016

McNeil Mavericks Defeat Boys' Varsity 84-67

(Story/Media)

Nov 10, 2015

National Honor Society Inducts New Members

(Media)

Nov 07, 2015

Warriors Defeated By Cedar Ridge, 42-14

(Media)

Nov 01, 2015

Warriors fall to Round Rock Dragons 44-3

(Story)

Oct 20, 2015

Football Player Makes Lasting Impression as a Freshman

(Story)

Oct 16, 2015

SunDancers: Behind the Scenes

(Media)

Oct 09, 2015

Warriors Fall to McNeil Mavericks

(Media)

Sep 28, 2015

Pep Rally Features America's Westwood Ninja Warrior

(Media)

Sep 10, 2015

Clubs Decorate Hallways for Homecoming

(Media)

Feb 09, 2015

Warriors Participate in Signing Day

(Media)