Caps Off to Seniors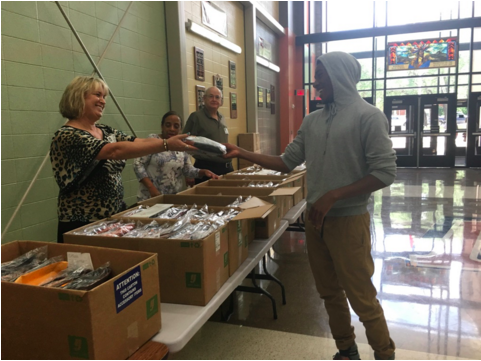 As we near the end of the school year, seniors are ecstatic to finally receive their last step towards graduation: their cap and gown. This achievement is cherished by many seniors because it signifies the end of their high school career and the continuation into the fields of their liking.
While the cap and gown is one of the many components of the graduation process, there are other aspects to signify the end of  seniors' high school journey, one of which is the all important diploma.
"Receiving my cap and gown is the second most pleasurable thing about the academic part of school," Julian Hodges '16. "The first will be receiving my diploma."
Along with diplomas and cap and gowns, seniors are reminiscing their past successes, memories, and friendships.
"It is exciting, scary, and weird all at the same time that we are graduating in three weeks," Taylor Russell '16 said. "My best memory of high school would be the first day of high school."
They also have come to the realization that their high school career has come to a full conclusion.
"It feels good but it's also sad because we are leaving here," Riley Garinger '16 said.
Despite this, they are optimistic as to what the next several years may provide for them. Many are imparted with the opportunity to gain a new perspective away from home.
"I have been here since freshman year and it feels kind of surreal because I have been here for so long and stayed in the same school path," Claire Young '16 said. "It feels weird to me going somewhere different and moving to a different city. I am going to Rice in the fall and will be majoring in Biology."
Leave a Comment