Oscar Nominations Perfectly Portray the Lack of Diversity in Film Award Shows
The Oscars have always been renowned for their selection of films in varying cinematic areas from costume design to motion picture. However, they are also criticized for their inadequacy when it comes to promoting diversity. The startling lack of female directors nominated in the 2020 Oscar nomination list released on Jan. 13 illustrated this flaw within a highly influential category. The absence of female directors is not due to scarce amounts of highly articulated female-made films but rather selective disregard by the Oscars voting panel. Despite more inclusivity compared to previous years, the exclusion of films centered around more varied and diverse themes is still clearly evident. 
Big-box films lead the pack in this year's list, with Joker sustaining a whopping 11 nominations and Once Upon A Time in Hollywood with 10. I haven't seen these films and thus can not fairly conclude whether they hold a differentiating factor from other films, but the audience viewer statistics on movie review sites such as Metacritic were mediocre at best. Focusing on exclusively male-directed films takes away possibilities from the wide array of spectacular women directors. For example, critic and fan reviews of Little Women on Rotten Tomatoes exceeded 90 percent, while Joker received 69 percent by critics and 88 percent by fans. Though the difference is not startling, it exemplifies the lack of credit given to the director of Little Women, Greta Gerwig.
The diversity or lack thereof in Oscar nominations is a long-standing conundrum between celebrities, critics, and fans. Ideally, the Board of Governors, along with the Oscars' Academy members, select films that speak to the human condition, embody the best in filmmaking, and depict the diverse nature of American-produced films and foreign films.
However, many argue that the panel selects films that are unoriginal, lack substance, and do not include racially diverse casts and crews. Though the Board of Governors is made up of representatives from all branches of cinema, it often does not portray films that were well-received by fans. In previous years, the exclusion of actors that were acclaimed for their roles was usually followed by an outpouring of disappointed fans, and this year was no exception. 
With the presence of hashtags like "#OscarsSoWhite" and "#OscarsSoMale" on one end and the Oscars' proclaimed inclusivity and diversity on the other, the contested debate of whether the award show is promoting a diverse film industry is yet to have a conclusive answer. The Academy can't please the interests of everyone but there is an obvious absence of films centered around political and social issues and themes. The rigorous film selection process and the fact that there are up to 8,000 members of the Academy who are eligible to vote in the categories that they themselves have contributed in should emphasize that the thematic variety should be wider than what it is now. 
Of course, nominating individuals and films just for the sake of presenting diversity is the wrong way to go. Attempting to mimic an ideal sense of diversity to avoid negative backlash only worsens the issue because the voters may be incorporating a broader field of actors but the heart of the selection process would still be flawed. There is a series of rhetorical questions we must ask ourselves. What elevates a film above others and distinguishes it from the masses? Who should be allowed to decide which film is in fact better? What credentials must these individuals have? What does raw equality and diversity in the film industry look like? 
In a perfect world, there would be no bias and this divisive issue would not be so troubling. However, our world is not ideal. We need to face the notion that these disparities and exclusive attributes are ingrained into the fabric of our society. As audiences of these films, we must watch with cautious eyes. We must support films that are well-crafted, creative, and contain thought-provoking substance. There are many stories out there that should be shared and highlighted because they reflect society and the myriad of lifestyles individuals have.
This doesn't mean all big-box, richly-funded films are bad or lack good qualities. The idea is to promote films because they mean something on the local, national, and/or global scale. Female-centered films are scarce in award ceremonies. Not because of a minuscule field of great films from this category, but rather because films chronicling empowering female tales often aren't viewed as critical compared to other films with intense storylines. Just because a film isn't full of special effects, drama, and/or extravagance doesn't mean that the story isn't crucial or important. Embellishments are frequently used as mechanisms to cover up a bland storyline.
The truth of the matter is that however it occurs, a transition in awards shows like the Oscars needs to be instilled to fully incorporate the broad talent of the industry, encompassing underrepresented filmmakers, actors and actresses, directors, and other contributors that possess the ability to alter the community towards a more progressive future. There is nothing more evident than the need to hold the Academy accountable and create a comprehensive process of celebrating cinematic achievements that does not exclude people of different races, genders, orientations, and backgrounds.
Leave a Comment
About the Contributor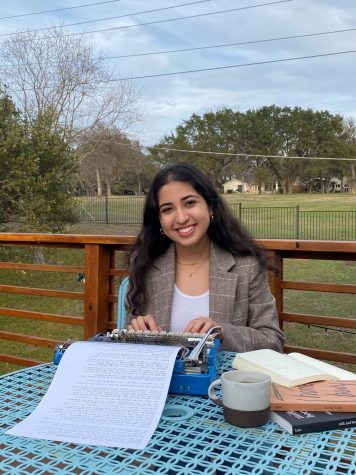 Keana Saberi, Editor in Chief
Class of 2022

Looking forward to my senior year, I am ecstatic to be serving as Editor in Chief of an organization I so cherish. Writing is of the utmost...