We Must Regulate Gun Laws for our Country's Safety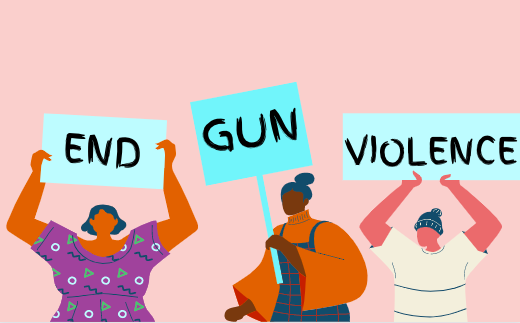 I will never forget my first ever shooter drill. I was six years old, in kindergarten, at a private Jewish school, a place where threats based on antisemitism were not uncommon. I remember our code word for when we were safe to come out of hiding. In addition to learning to read, we were learning to hide. I remember second grade, and the words "this is not a drill" echoing on the loudspeaker. That feeling of fear and helplessness stuck with me.
I was in eighth grade when I learned exactly why we had these protocols. The Parkland shooting impacted students all over the country and brought light to the sheer and terrible power that guns contained. The mass shooting took place in a high school in Parkland, Florida, where a former student murdered 17 students with a semi-automatic rifle. I go to school in fear, knowing that my peers can also easily access these weapons.
Unfortunately, in Texas, there are no gun laws regarding possession. That means someone can carry a gun at any age, mental health status, and/or criminal record.
The need for gun safety is not limited to students in school, but also mentally vulnerable people who can acquire guns without extensive mental health checks. According to the Center for Disease Control and Prevention, almost half of suicide deaths in 2019 were from firearms.
As someone who has seen the effects of gun misuse, I feel it is essential not just to ask, but demand strict regulations on deadly guns. I understand the need for the military to have access to automatic rifles, but I see no reason for anyone else to carry deadly firearms unless it is a gun made for hunting and the user has obtained the correct licenses.
I know that I am just a student. I know that I do not have all the answers. I also know that this is a substantial systemic failure, not just from statewide and federal governments in charge of controlling gun laws, but also the police and mental healthcare systems.
The police system shows an example of why we as a society need gun regulations. While I see a reason for why police should have access to weapons, they must have proper training on when not to use them. Police brutality is a rising issue, and not regulating guns only makes this problem worse. Police gun violence rates have been on a steady uphill climb since 2013. We should feel safe around the police, not scared.
I feel betrayed by my government, which ignores the cries of its people. The blood of the lives lost is on the hands of not just those holding the trigger, but also the federal and state governments that refuse to care about public safety. I strongly urge the government to protect their citizens and put restrictions on guns.