Ceci ou cela? French Honor Society Presents Plans at First Meeting of Year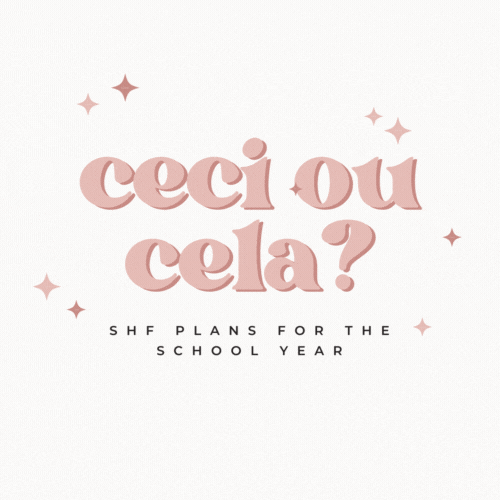 Hibah Ahmed, Instagram Account Manager
September 14, 2022
On Monday, September 12th, The National French Honor Society (SHF) hosted their first monthly meeting of the year. The officers discussed organization news, upcoming service opportunities, and began a conversation on the annual Homecoming hallway decoration.
Since this meeting was the first one back from the summer, the officers initiated a game of Ceci ou Cela, the French version of This or That. After the students broke the ice by viciously debating over soup and salad, SHF vice president Amoli Agarwal '23 introduced an informational powerpoint to the group. The presentation allowed members to refresh their understanding of the SHF point system, and Seniors were reminded of their 10 point minimum requirement to receive a cord for graduation by the end of the year.
"[As a senior] the club feels a lot more personable," SHF member Eshaan Chopra '23 said. "Even though I'm not in French anymore, I still love being able to be a part of the community, and the senior officers are doing a really great job helping everyone."
SHF President Nicole Frazier '23, then went on to explain upcoming opportunities for Society members. This November, French students will be able to enter an international design competition for the chance to win $500 for Madame Anne Macharia's French program. Concours de bande dessinée is open to communities around the globe and offers 15 students from around the world grants for their designs. There will also be an opportunity to celebrate La Fête de la Gastronomie via a potluck in light of the food festival occurring in France around this time of year. It will be hosted Friday, Sept. 23 during Flex, coinciding with a cultural exchange activity designed to teach young boys and girls in Benin, Senegal their first words in English, and members are encouraged to bring French foods and desserts to share with the group.
"I'm very excited for this year's [Cultural Exchange]," Frazier said. "Usually we do something schoolwide or local, but this is the first year we're expanding it internationally. I think it is going to be a bit challenging because there are a lot of components that go into it, but I'm still excited for the overall opportunity."
Finally, as the meeting wound to an end, the officers shared this year's theme for their Homecoming hallway design. The hallway decoration theme was revealed as Music Madness! a collection of French music from artists around the globe- marking each pin on the map with their own unique representation of french music. With Homecoming approaching this October, SHF members are more than excited to start brainstorming how Music Madness will come together.
"I think [the officers] are trying to make things more efficient in general for the members [this year]," Agarwal said. "We wanted to give y'all more opportunities in terms of service projects because we really think we have the ability [as a team] to make an impact in the French-speaking world."