A Beginner's Guide to Talking Heads
Despite only releasing eight studio albums over an 11 year period from 1977 to 1988, no other band had the distinct sound or unique appeal that Talking Heads possessed. Led by twitchy frontman David Byrne, they pioneered a quirky and nervy brand of punk, and eventually, funk. Bassist Tina Weymouth, guitarist Jerry Harrison and drummer Chris Frantz backed Byrne with precise and versatile musicianship, and producer Brian Eno created soundscapes for three of their albums. They began as a humble punk outfit and matured into one of the most rhythmically complex bands of the '80s. But with several albums, live recordings, and singles, as well as solo projects and many  films, what is essential, and what can be skipped? Well, let's start with a breakdown of the songs.
Five Essential Songs
Girlfriend is Better (Live): This might be my favorite Talking Heads song. It has everything the band does best; quirky lyrics, a funky groove, a rousing chorus and a slightly paranoid edge. It's also responsible for the image that the band is most associated with: David Byrne dancing around in his comically oversized suit in Stop Making Sense, the concert film that got its title from a memorable line in this song.
Once In A Lifetime: This was one of the group's biggest hits and arguably their most famous song, and for good reason. It's not their best song by any means, but it will give you a good idea of the band's sound and is a great starting point. Byrne spews lyrics that were inspired by evangelical preachers, all set to a burbling synth backdrop. 
This Must Be the Place (Naive Melody): Talking Heads weren't all about funk and weirdness. They could also provide heart breaking but hopeful songs that were capable of  bringing tears to your eyes.Jerry Harrison's yearning guitar lead and the titular naive melody present in the synth line coalesce in a perfect song. Byrne takes a step back from his usually cryptic and funny lyrics to bring us a simplistic set of oddly heartwarming verses. Sometimes you don't need florid words and purple prose to represent love, sometimes the best way to present the concept is through clear, concise, and simple language, and Byrne understands that perfectly. 
Cities: While not one of their best known tracks by any means, this is still one of the best. It has a slightly darker and more claustrophobic sound than their other music, and has my favorite David Byrne lyrics. 
Don't Worry About the Government: This is a good example of the band's early sound. It lacks the funk of their later songs but still has the classic Byrne charm and a sparse but spirited arrangement. 
Five Essential Albums
It's very unusual for a band's best album to be a live recording, but in my opinion, Talking Heads peaked with Stop Making Sense, the 1984 concert album that was also filmed for the movie of the same name. First of all, the film itself is amazing, regardless of whether or not you like the band. But throw in the best renditions of these songs that almost always surpass their studio arrangements? You have a recipe for an all time classic album of the '80s. Augmented by a stellar lineup of musicians, the band breaks out several incredible jams, including some hits and some deep cuts, as well a David Byrne solo track and a song performed by The Tom Tom Club, a band founded by Weymouth and Frantz. If you want a good taste of their sound, check this one out, and watch the movie too.
In terms of studio work, Remain in Light can't be topped. With a lean track listing consisting of only eight songs, it kicks off with the explosive Born Under Punches, one of the band's best songs. Session guitarist Adrian Belew provides riffs that barely sound human, resembling video game noises more than traditional guitar. From the opening seconds you know you're in for an incredible album. It's followed by two more nervy, fast, and funky songs filled with percolating and spastic playing, all underscored by Frantz's solid drumming and topped with Byrne's idiosyncratic lyrics. An admirer of African artists like Fela Kuti, producer Eno and Byrne created rhythmic loops that brought a distinct world music flair to the songs. Byrne was also inspired by fire and brimstone preachers on Once In A Lifetime. The second half of the record isn't quite as good as the first half, as the band heads into some even more experimental territory, but these songs are still good. 
Houses In Motion is an underrated classic, Listening Wind is a heartbreaking ballad with a mournful melody, Seen and Not Seen is built around a spoken word speech about molding your face to look like other people, and The Overload is the only song that I don't like. As the final track, it's slow, draggy and long. But don't let that deter you. This album is nearly perfect and is absolutely essential for music fans. 
The band's followup, Speaking in Tongues, is poppier and more accessible than Remain in Light and is just as good. The sound here is more dependent on melody and synthesizers, and this is evident from listening to the opening track, Burning Down the House, an unstoppable party jam that still packs the dance floors to this day. I think. I don't really get invited to parties, but if I was, I would want them to play this song. As mentioned above, This Must Be Place is an essential song in the band's discography, and so is Girlfriend Is Better, although I prefer the live version. This record often gets lost in the shadow of Remain in Light, and that's unfair because this release is as stellar and consistent as its predecessor.
Most retrospectives put 1979's Fear of Music near the top of the essential albums list. And while I like the record, I don't have as much affection for this one when compared to the often overlooked True Stories. For whatever reason, this album has been relegated to a footnote in the band's discography by many, perhaps because it was rerecordings of soundtrack music for Byrne's only directorial credit, True Stories. Some of the songs here are a bit generic, but we also get some great genre excursions. Radiohead is inspired by Mexican music and would in turn inspire the band of the same name, although their music is nothing alike. The best songs here come right after one another. Dream Operator sounds like it could be in a Disney movie, with lavish orchestrations and keening vocals from Byrne. People Like Us is a spirited country track that best represents the band's outsider ethos. Many people undervalue this release, but that's a disservice to a unique and fascinating album. 
Fear of Music is unlike any other album that the band released. It has a dark, industrial sound that is similar to David Bowie's Berlin albums. This is only natural, as those records were produced by Brian Eno, who also helmed this release. The instrumentals here are claustrophobic and dense, with overdriven guitars and driving bass. But there's still melody at work, although Byrne's chipper lyrics are now more paranoid and intense. There's menace at work here, albeit one that is occasionally broken up by beautiful songs like Memories Can Wait and Heaven.
Branching Out
Also worth mentioning is their debut, 77, a collection of smart, punk-infused songs, and More Songs About Buildings and Food, a logical extension of their first record that adds some texture and more melody to their original sound. I think all of the group's albums are at least worth a listen, but those two stick out among the rest. 
On the solo end of things, Byrne has had the most consistent output. My favorite of his solo works is 2018's American Utopia, a surprisingly optimistic album given the state of things during the album's recording. It was supported by a film in 2020 with the release of Spike Lee's concert recording of the same name. Byrne also collaborated with Brian Eno for two albums, My Life in A Bush of Ghosts and Everything That Happens Will Happen Today. Both are worth a listen, and Bush of Ghosts would be one of the early pioneers of sampling, with its vocals consisting of field recordings of exorcisms, preaching, and radio broadcasting. 
Weymouth and Frantz are the founders of the Tom Tom Club, a loose collective that was instrumental in creating rap music. Although the songs sound quaint to modern ears, they still have a fun energy. The best song from this group, Genius of Love, can be heard in its best form in Stop Making Sense.
More Like This
Once you've plowed through the group's full discography and solo stuff, a good next step would be Devo. They had an even quirkier sound and an arresting visual presence, compounded by a similar nervish attitude. I like Devo but I often have trouble listening to a lot of their tracks in succession. They can sometimes get on my nerves, but that shouldn't stop you from checking them out. 
A very good album with a very similar sound to Talking Heads is Discipline, by King Crimson. King Crimson have had a long and complex history, spanning over 50 years of music. The only consistent member has been guitarist Robert Fripp. He is joined on Discipline by second guitarist Adrian Belew, who worked with Byrne and Eno on several projects. It's a lot artier and more obtuse than the easily digestible work of Talking Heads, but fans of Fear of Music and Remain in Light will enjoy it. 
So now you know how to approach the wide discography of Talking Heads and the assorted side projects associated with them. So what are you waiting for? Get listening!
Leave a Comment
About the Writer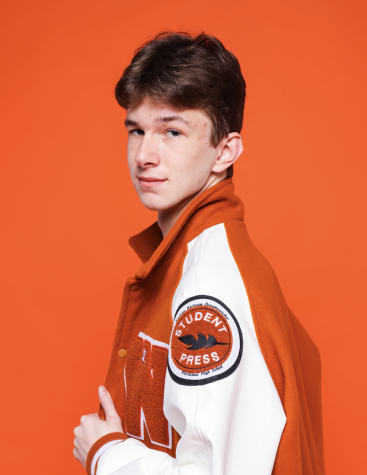 Oliver Barnfield, Video Editor
Class of 2023

I am currently Westwood Horizon's video editor, and also one of the hosts of Friendcast, our website's podcast video series. In addition...